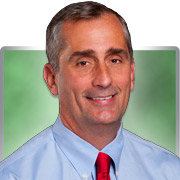 Intel's new CEO Brian Krzanich showed Tuesday he's ready to put his stamp on the chipmaking giant by announcing a company reorganization that includes a division for new devices.
The division, headed by former mobile unit chief Mike Bell, will reportedly focus on emerging product trends. It will be a key component in Intel's attempt to boost its performance in two areas where it has lagged behind rivals: smartphones and tablets.
"What the devices division will do is still up in the air," Cody Acree, director of research for Williams Financial, told the E-Commerce Times.
"Mike Bell has a history of innovation so we'll have to see what happens," he added.
Diversify From PCs
With PC sales withering and the post PC paradigm being flogged mercilessly by pundits, the new division is seen by some as Intel's answer to those trends. "It will hopefully be a group that helps Intel to diversify from its PC focus," Acree said.
Although CEO Krzanich was at Intel's helm for only a week before he decided to shake things up, he does have 30 years with the company. Krzanich is known for making quick decisions after consulting trusted subordinates. However, it may take some time to get the chip behemoth to behave the way he wants it to behave.
"These things take a lot of time," Acree noted. "Even efforts they've been working on for many years are still nascent. What they're trying to do in mobile with tablets and smartphones are new initiatives, and they're still too small to move the needle for Intel. Whatever they do here, it's going to be interesting, but I don't know if it's anything that changes the bottomline anytime soon."
Haswell Chip
At the center of Intel's new product strategy will be its next generation of Haswell PC processors. The chip line will power the entire gamut of PC hardware — from tablet-laptop hybrids to desktops.
"Haswell is a PC chip, but it's capable of driving new solutions like convertibles that have a tablet and PC in a single system," Craig Stice, an analyst with IHS iSuppli told E-Commerce Times.
"Intel is making strides to get out of traditional PCs and driving more solutions around this new media tablet ecosystem that's gotten the consumer dollars over the last year and half, two years," he said.
In the battle for hardware hearts and minds, Intel is squarely pitted against competitors that use chips based on ARM architecture, which is suited to devices that need low power requirements. Intel has been working on an answer to that challenge, too.
"A big opportunity for Intel is its next generation Atom processor," Stice said. That generation will not only be stingy on power consumption, but offer dramatic performance improvements over prior generations.
Selling Relevance
Improving the performance of products based on Intel chips may be less of a challenge for Krzanich and company than persuading consumers that they need a PC. "It needs to convince the consumer that the PC is still relevant," Stice said. "That's the biggest challenge that Intel has right now."
In contrast to the PC market, Intel's server business remains robust and is poised to remain that way. While ARM has raised its head in the server market in the form of so-called "microservers," it isn't challenging Intel yet.
"Although microservers are beginning to get some interest in the market, the vast majority of enterprise customers aren't really thinking about them right now," Peter ffoulkes, research director for servers and virtualization at 451 Research, told the E-Commerce Times.
"Those customers are still going through standard server virtualization and rolling out the pieces of their private clouds," he said. "Most of that is based around Intel, mainstream Xeon processors."
However, there is a cloud approaching Intel's server business. "The challenge Intel faces in the server world is not its chipsets or its technology or anything else," ffoulkes said. "It's simply that as people move from the old school, one application per server to a modern virtualized environment, they can get more applications working on a single system so people are needing fewer systems."
As a result, "people are buying fewer systems by quite a significant amount as they virtualize their environments," he continued. "So even if Intel has absolutely perfect products, they're still a flattening in the marketplace."