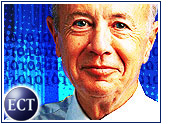 In an effort to boost demand for its microprocessors, motherboards and networking products beyond the PC market, Intel announced Tuesday that it plans to spend $100 million (US$) over the next year to open 15 e-business centers throughout the world.
The new "Intel Solution Centers" will provide hardware, software, lab-testing equipment, and engineering services to computer manufacturers who wish to fine tune their Intel-based servers. Partners will be charged a fee of $50,000 to cover the costs of the program.
Making Technology Available
"We're taking something we've been doing for a while in a modest way and now we're going to expand its reach and spend a lot of money to do it," said Will Swope, general manager of Intel's solutions enabling group. "We're going to make sure that people who want to use our [technology] architecture are able to do so."
The Santa Clara-based chip giant said it plans to open its first centers near its office headquarters, as well as in Chantilly, Virginia; Dupont, Washington; Reading, England; Paris; Munich; Stockholm and Amsterdam. The 15 centers will eventually employ about 1,000 workers, Intel added.
The company also plans to open centers in India and China.
Recipes for High-Performance Servers
In addition to announcing the creation of its e-centers Tuesday, the company outlined its new Intel Server Applications Enabling Program. The initiative is aimed at developing "recipes" for computer makers to enable the design and production of high-performance server systems geared for e-commerce needs.
Intel added that it plans to work with such high-tech giants as data storage company EMC Corp., Hewlett Packard Co., Microsoft Corp., Oracle, Red Hat, Adaptec, Inc., LSI Logic Corp. and others in setting up and running the centers.
Push Outside Core Market
Meanwhile, in other news, Intel said it acquired an integrated circuits unit and related assets from auto supplier Visteon Corp. — furthering its strategy to sell chips outside its core market. While the terms of the deal were not disclosed, Intel said it will absorb the company's 79 employees — mostly chip designers — into its ranks.
Intel also expects to submit plans within the next two weeks to build a new chip plant in Israel for an estimated cost of $3 billion, according to Israeli government officials. However, no final agreement has yet been reached, Intel said.