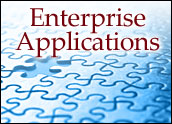 With nearly every market forecast and growing anecdotal evidence pointing to escalating demand for cloud-based alternatives to traditional on-premises systems and software, the challenges of integrating the new on-demand solutions with existing applications and data sources are becoming even more critical.
Data integration continues to be a pivotal part of successfully adopting today's rapidly expanding assortment of Software as a Service, Platform as a Service and Infrastructure as a Service alternatives, based on the results of Scribe Software's recent survey of more than 920 technical professionals, business leaders, systems integrators, VARs and other channel partners.
The Custom Code Problem
Only 16 percent of the participating enterprises had achieved full integration across their various business systems, the survey found, and 10 percent of the enterprises admitted a complete lack of integration among their systems. Not surprisingly, the lowest levels of integration reported were between customer relationship management and enterprise resource planning systems (13 percent).
Integrating CRM and ERP systems has historically been a challenge, and even today's more user-friendly cloud-based solutions require considerable integration with legacy systems and data sources. This is even more of an issue when it comes to tying CRM systems together with a new generation of social applications, with only 10 percent of the survey respondents reporting they'd integrated them fully.
Part of the problem is that enterprises have historically relied on custom code to integrate their systems. In fact, 48 percent of the survey participants reported they were still developing their own custom code, and nearly a third (32 percent) still used manual data-entry processes, despite their becoming more and more restrictive in an increasingly demanding business environment.
Given those old world approaches, it was to be expected that 80 percent of the businesses participating the Scribe survey were continuing to rely on their in-house IT organizations to contend with their data integration issues, and only 40 percent leveraged outside systems integrators or consultants to address those issues. Yet nearly half (47 percent) of the survey respondents said hybrid environment support was either a top priority or important for their CRM strategy in 2013.
A Cloud Too Far
Bridging the gap between the legacy on-premises and on-demand cloud worlds will continue to be a key challenge for a while, as businesses of all sizes attempt to gain greater insights about their customers and prospects so they can more effectively sell and support their products and services.
Fortunately, a growing number of enterprises are adopting prebuilt integrations provided by software vendors (41 percent) or are using third-party integration platforms (32 percent). They are also recognizing that they should take better advantage of systems integrators that have the skills and experience to address their integration issues. The software industry is also paying attention to this issue.
THINKstrategies and MuleSoft teamed up for our second annual joint survey, which found nearly 90 percent of the SaaS vendors considered integration to be important or extremely important in winning new customers. As a result, a growing number of SaaS vendors are developing integrations for their partner ecosystems.
The good news is that on-premises to cloud integration is still significantly easier than it was in the old, legacy software and systems environment. However, until a new generation of integration technologies and skills become more prevalent in the marketplace, businesses will not be able to take full advantage of today's more powerful, flexible and user-friendly cloud alternatives.