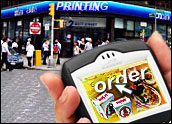 The proliferation of smartphones, alongside the growth in number of subscribers of 3G network data plans (or newer wireless services), is having a ripple effect on multiple markets, from mobile apps to hardware enhancements. As media becomes increasingly fragmented, advertisers are focused on multiplatform media strategies in order to capture and retain consumer attention.
Smartphones — and all the advanced applications that come with them — offer the user a rich, dynamic experience for both utilitarian and entertainment applications, moving well beyond the capabilities of a standard cellphone. As a result, advertisers will begin to incorporate mobile into their overall media campaigns as this advertising channel matures into a viable marketing tool.
How to integrate mobile into a campaign (i.e., how to use the mobile platform effectively) is a lingering point of concern. Advertisers have to make a choice when committing to this medium, and there isn't much history of successful (and unsuccessful) campaigns to guide one's decision. As a result, mobile advertising in North America and abroad is in a time of experimentation and (potential) innovation.
Advertisements delivered over the mobile phone come in various types and formats, with the final form depending on the specific needs of the advertiser. Of course, the industry is still in need of time-tested data on which forms work best for what ends, so it is currently experimenting with different forms of mobile ads. The vast majority of mobile advertising expenditures currently go to text-message ads because messaging is the most common mobile data activity. As a result, text-messaging campaigns offer a simple way for advertisers to mobilize existing media plans from creative and budget perspectives.
Brand vs. Performance-Driven
In general, advertisements across all media fall into two distinct categories — performance-driven ads and brand ads. Performance-driven mobile ads focus on increasing return on investment (ROI) for the client and include audience measurement data. Brand ads focus on increasing overall brand awareness or brand affinity. Mobile media campaigns fall into both categories. However, industry executives generally agree that the mobile platform performs much like traditional direct-response media and is therefore more valuable when used as a performance-based medium.
The most common mobile ad formats fall into the following categories:
Text messaging
Search
Display
In-application
Video
The main advertising categories on the mobile platform are automotive, entertainment, consumer package goods (CPG) retailers and travel. Mobile media campaigns on a single ad network range from US$50,000 to $100,000, but some advertisers allocate more, depending on specific call-to-action and measured performance. Jaguar and Land Rover announced an unprecedented $1.6 million mobile media deal with ad network AdMob for 2009, based on positive direct-response results from previous mobile media campaigns.
In general, the amount a company spends on mobile media is difficult to determine. Industry executives generally consider information on mobile budget allocations to be proprietary, and there is no average digital media spend assigned to mobile media initiatives. Mobile ad expenditures are directly linked to individual client strategies and objectives, and they are conducting a host of different experiments on format, spending and messaging. It will require several years to sort out which approaches work for which companies and for which industries.
Working Strategies
For now, several high-profile campaigns are already seeing positive results.
One advertising strategy is to develop a mobile application to build brand awareness and interactivity. Kraft Foods created its own branded application, the iFood Assistant, which allows consumers to streamline shopping and food-preparation processes. The application includes recipe ideas and directions, simple shortcuts, a shopping list organizer, and cooking videos, all on an easy-to-navigate mobile interface. Kraft charges users 99 cents for the application and advertises its food products within the application. Kraft also uses the solution as a research tool to gain information and feedback on its consumers. Within a month of availability, the application was in the top 100 paid apps in Apple's App Store, showing consumer willingness to pay for utility and convenience.
The travel category is reaping high ROI by providing mobile phone access to its service offerings. While not a direct form of advertising (more an extension of marketing), Marriott Hotels, Hilton, and Omni Hotels have developed mobile WAP (wireless application protocol) sites to drive hotel bookings from mobile phones. Marriott claims to have generated $2 million in gross revenue from the launch of its mobile Internet site in August through the end of 2008.
Omni Hotels claims consumer use of its mobile site grew 85 percent within six months, with a 25 percent ROI, and maintains that its current mobile conversion rates far exceed the company's online Web site. The success of this hotel chain's mobile media strategies further illustrates the value of marketing on the mobile channel, especially for companies operating in the retail and service fields. Continued success rates will push more companies into strategic partnerships with complementary third-party advertisers, which will further expand the mobile advertising space and lead to more experimentation with format, style and messaging.
---
Heather Way
, a
Parks Associates
analyst, studies digital media advertising services and platforms as well as consumer research focusing on digital entertainment, digital media habits and consumer purchase processes.
---