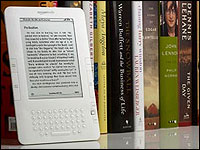 The Apple iPad, rather than Amazon's Kindle, will likely benefit most from the strong demand for e-readers, according to a recent ChangeWave Research report.
The ChangeWave survey of more than 2,800 consumers found that 47 percent are interested in the Kindle, a 15-point drop from a similar survey in August. Meanwhile, 32 percent are interested in the iPad, a doubling of the figure since ChangeWave's August survey.
The respondents had little interest in other e-readers, including the Barnes & Noble Nook and the Sony Reader.
Findings from the Survey
ChangeWave found that 75 percent of iPad owners are very satisfied with their devices. For Kindle owners, the rate is only 54 percent.
E-reader demand remains relatively strong for the holidays, with 5 percent of respondents saying they are very likely to buy one over the next 90 days and 10 percent saying they're somewhat likely to do so.
The survey found that the iPad will be the biggest beneficiary of the expanding e-reader market this holiday season.
Comparing, uh, Apples to Apples
Perhaps ChangeWave was being a trifle hasty in its conclusions.
"You're looking at a single-purpose device in the Kindle versus a multi-purpose one in the iPad," Kurt Scherf, vice president and principal analyst at Parks Associates, pointed out.
"There's very little question that some people went ahead and bought the iPad when they were looking for an e-reader because it lets you play video games and has other features, but it's over-simplification to compare the two," he told the E-Commerce Times.
ChangeWave's figures point to a major difference in the market for the two devices. Its survey found that 93 percent of Kindle owners are likely to read books on their devices, compared to 76 percent on the iPad.
On the other hand, iPad owners are nearly five times more likely to read newspapers and magazines on their devices than their Kindle counterparts and 15 times more likely to read blogs and news feeds, the ChangeWave survey found.
"Comparing an iPad to a Kindle would be like asking consumers if they're more satisfied with their laptops or their stereos," Dmitriy Molchanov, an analyst at the Yankee Group, told the E-Commerce Times. "Both devices can play music, but if you really want to listen to your favorite album, you're going to hook up your stereo."
Yankee's own consumer survey shows that tablet owners spend about 35.5 minutes a day reading, while e-reader owners spend about 44.5 minutes, Molchanov said.
"What we released yesterday is a subset of our overall survey where we have two sections we're focusing on with the iPad," Andy Golub, associate director of research at ChangeWave, told the E-Commerce Times.
One area compares the iPad to other tablets, and the other focuses on e-readers, Golub said.
"Not necessarily every person who owns an iPad uses it as an e-reader," Golub elaborated. "So, while I understand your point that the Kindle is a one-purpose product for e-reading and the iPad is a multifunctional device, we still draw a relationship between the two because, according to the results, we can see that the iPad is still pulling interest away from the Kindle."
Amazon.com did not respond to requests for comment by press time.
The Kindle Fifth Column
Amazon has an iPad app, so who's to say iPad owners aren't using it to purchase books from Amazon.com?
"Many people use Kindle apps on iPads and other devices," Maribel Lopez, principal analyst and founder of Lopez Research, told the E-Commerce Times.
"The Kindle is just one vehicle to sell books, and the iPad is actually good for Amazon book sales, especially because it opens a market for people who aren't going to buy an e-reader," she added.
"Amazon is a bookseller and a retailer; it's not a device manufacturer," the Yankee Group's Molchanov stated.
"One of the reasons they've stuck with the proprietary AZW format is to restrict Kindle owners to their own storefront. It's also the reason they've pushed so heavily to get the native Kindle app on as many devices as possible," he elaborated.
In other words, Amazon probably will care more about how many books it sells than the platforms they are purchased on.
"I think that, at the end of the day, it's the number of books sold, through either the Amazon or Apple stores, that would count," Parks Associates' Scherf said. "Kindle may be losing ground in terms of ultimate hardware shipments for sales, but what's the sell-through in the e-book market?"
What about the falling demand for the Kindle, then?
"There's always a spurt of enthusiasm from early adopters and then it trails off," Scherf explained. "That will happen to the iPad as well."
Growing Pains
It's not as if e-readers from other manufacturers are dying off, either.
The Yankee Group's estimates for this market have the Kindle taking 57 percent of market share; Sony's e-readers taking 20 percent, and the Barnes & Noble Nook line taking another 16 percent.
Further, In-Stat forecasts that standalone e-reader shipments will almost triple over the next three years. It expects them to grow from 11.5 million units by the end of this year, to 35 million in 2014.
Sales of e-books on the iPad may also be hit by Google Editions, a service that will let users read copyrighted books from Google Book Search. The service is expected to be launched this month.
"The launch of Google Editions will also eat into Apple's control over iPad e-book sales," the Yankee Group's Molchanov predicted.