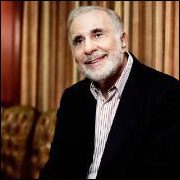 eBay and corporate raider Carl Icahn on Thursday ended their months-long acrimonious battle with metaphorical hugs and kisses.
eBay's board accepted an Icahn nominee — CVS Caremark Chairman David Dorman — as one of its 10 independent directors, and the disputants sang each other's praises.
"Extremely pleased about agreement," Icahn tweeted. "Believe it's a win-win for all shareholders."
However, the battle isn't over yet — Icahn, who had wanted eBay to spin off PayPal, intends to pursue that idea.
All Sizzle and No Steak
The papering over of the dispute between the two parties does not tackle the real problem — the conflict-of-interest issues raised by the presence of Intuit cofounder Scott Cook and Andreessen Horowitz cofounder Marc Andreessen — contended Trip Chowdhry, managing director of equity research at Global Equities Research.
"Icahn isn't relevant to the story," Chowdhry told the E-Commerce Times. "The only thing that's relevant is who will resolve the conflict of interest."
Until that problem is solved, "shareholders will not gain confidence in either eBay's stock or its CEO or its board of directors," he continued. "It's critical for eBay to [tackle this issue]. The fact that eBay and Icahn have shaken hands and are glorifying each other is irrelevant."
Icahn and eBay did not respond to our request for further details.
Icahn't Give You Anything But Love, Baby
"I respect Carl [Icahn's] willingness to work together to drive sustainable shareholder value today and into the future," said eBay President and CEO John Donahoe. "We are also honored to have Dave Dorman join our board as our tenth independent director."
Dorman said he has "tremendous admiration for eBay and what the company has accomplished under John's leadership," and plans to help drive growth for PayPal and eBay together.
However, Icahn struck a warning note, describing the settlement as a "dtente," thus leaving the door open for a possible resumption of hostilities.
Icahn continues to believe that eBay "would benefit from the separation of PayPal at some point in the near future," and intends to keep arguing for that through confidential discussions with Donahoe, he said.
A Brief History of the Hostilities
The dispute arose with Icahn firing off a series of letters charging eBay directors with cronyism, conflict of interest and mismanagement.
In February, he said the disregard for accountability at eBay was "the most blatant we have ever seen."
eBay responded that Icahn had "cherry-picked old news clips and anecdotes out of context."
On March 10, Icahn charged that Donahoe's "inexcusable incompetence" in selling Skype prematurely cost eBay stockholders more than US$4 billion.
On March 19, Icahn called on eBay to conduct an IPO for PayPal.
On March 26, he compared eBay board meetings to secret Politburo meetings and accused Andreessen and board nominee Fred Anderson of, at the least, misconduct.
After a bit of squirming, eBay this week caved to Icahn's demand for a seat on the board, and Icahn retracted his claws.
Icahn't Get No Satisfaction
Icahn's withdrawal of his proposal for the hiving off of PayPal and reduction of his original demand for two appointees to eBay's board "is at best a truce," Andreas Scherer, managing partner at Salto Partners, told the E-Commerce Times.
Getting Dorman on eBay's board "makes sure [Icahn's] voice is heard," Scherer said. For Donahoe, meanwhile, the settlement "is about proving that there is clear strategic advantage to keeping PayPal in [eBay]."
Icahn "will make sure that this question remains on the front burner," Scherer averred. "If Donahoe can't make this case in a relatively short time, Icahn will knock on his door louder than ever before."