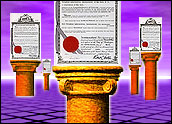 IBM announced this week at the LinuxWorld conference that it will not use IBM patents against Linux or the open-source community. IBM encouraged other software companies to make the same vow.
As the owner of 60 patents on which the Linux core might infringe, IBM could wreak havoc on Linux if it chose to do so. The new promise emphasizes IBM's commitment to open source.
In a speech at the conference, IBM senior vice president Nick Donofrio said that in the future the company could be "forced to defend" itself through patent enforcement.
Donofrio's comments were in response to an earlier statement by Open Source Risk Management, a group that conducts research and analysis of patents that could affect the core of Linux.
The organization identified several patents owned by large companies such as IBM that have Linux-based strategies. A total of 283 patents owned by a variety of companies might infringe on the Linux kernel.
Donofrio added that collaborative innovation would play a significant role in the future of IT, Linux, grid technology and the Internet. He noted that countries will have to find the right balance between harnessing that collaborative power and protecting intellectual property, and that IBM wants to help strike that balance.