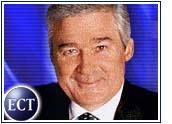 Internet Capital Group, Inc. (Nasdaq: ICGE) announced Wednesday that it will collaborate with IBM (NYSE: IBM) to form an online marketplace for intellectual properties.
The new company will use IBM's Intellectual Property Network (IPN) as the foundation for a marketplace that will enable users to search, analyze, buy, sell, and license patents and other intangible rights, the companies said. The site will also offer legal support, insurance and escrow accounts.
The network will be accessible at www.patents.ibm.com, and then be shifted to a new URL in third quarter of this year.
Driving Innovation
"Building this new company positions us to capitalize on an estimated $100 billion (US$) market opportunity in the historically inefficient intellectual property market," said Internet Capital Managing Director John Hamm. "Because it touches all facets of all industries, our network of partner companies, as well as all companies driving innovation, can greatly benefit from the streamlining of processes surrounding the research, purchase and sale of intellectual property."
IBM's IPN site currently averages 1.3 million hits a day, and will continue to provide free access to patent information.
Neutral Marketplace
"This new company is focused on building an online marketplace that transforms the intellectual property industry by bringing significant value to a growing and diverse network of buyers and suppliers," said Peter Vanderheyden, acting general manager of the new company.
The new venture will be headquartered in Chicago, Illinois and have offices in the Netherlands. The site will be hosted by IBM Global Services, and be staffed by a number of current IPN employees, the companies said.
Internet Capital provides operational assistance, capital support, and industry expertise to more than 60 business-to-business (B2B) e-commerce partner companies. Current holdings include affiliate management company LinkShare.com, VerticalNet, which provides industry-specific trade communities, and Deja.com, a virtual community where users can rate products and services.
A Boost for ICG Stock
News of the soon-to-be-launched intellectual property site lifted Internet Capital shares up 1 7/16 to 28 1/2 in early trading Wednesday. Shares are still down from a high of 212 in December 1999.
Internet Capital earned $352 million, or $1.30 per fully diluted share, in the first quarter, including gains from stock sales. The company spent $521 million during the quarter on acquiring and financing its partner companies, putting it in 35 of the top 50 markets.
The Wayne, Pennsylvania-based company is one of six Internet companies in which Saudi prince Alaweed bin Talal recently made a stock purchase investment of $50 million. The other five were Amazon, eBay, DoubleClick, Infospace and Priceline.