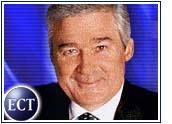 IBM Corp. (NYSE: IBM) unveiled a wireless laptop computer on Thursday that features a local area network (LAN) chip built directly on the computer's motherboard. The chip allows users to connect to the Internet and peripherals, such as printers, cell phones and other mobile devices, without using cables.
"We consider it the Holy Grail of connectivity," said IBM's Ron Sperano. "You don't need 11 ports anymore and you don't have to worry about line of sight. You can walk into your office and connect to all your peripherals."
The optimum range of the 802.11 LAN chip used in IBM's new laptop is 150 feet. The Window-based portable computer is the first offering in Big Blue's ThinkPad I-series of notebooks.
Dell, IBM Behind Apple
Wireless computing is one of the hottest trends in the high-tech world, with IBM and Dell Computer competing with others to come up with integrated, commercially viable, wireless portables.
One step behind IBM, Dell has announced that it will soon begin shipping its Latitude notebooks, which feature an integrated antenna, but not the LAN component required for complete wireless networking. Dell is not expected to offer the LAN component until the mid-to-late fourth quarter.
Apple has offered wireless technology in a notebook for the past year. Its AirPort portable sells for around $300 (US$).
The IBM wireless notebook will begin selling in the fourth quarter for $1,149, and Dell's offering is expected to sell for a similar price.
Challenging Technology
In the past, wireless networking has depended on PC cards that send and receive information from transceivers connected to corporate networks. The technology race has been geared toward integrating wireless networking, in order to simplify it and make it more commercially acceptable. Dell, for example, created a separate division to work on upgrading its wireless technology.
With the new I-series, IBM is issuing a serious challenge in the wireless market, with particular emphasis toward the education and academic segments.
"Customers are looking for a way to disconnect from the wall, yet stay connected to their business or Internet," said IBM's Rick McGee.
McGee said that with the integrated wireless ThinkPad, growing businesses will have access to corporate data without a large investment in network infrastructure.
Bluetooth Options
IBM will also offer options for a Bluetooth PC card, the open standard for short-range transmission of digital voice and data between mobile devices. With a Bluetooth PC card, mobile devices can transmit data through walls and other non-metal barriers.
The Bluetooth PC card option, used in conjunction with IBM's UltraPort, would be primarily used to connect to cell phones.
The Bluetooth Special Interest Group was founded in 1998 by Ericsson, IBM, Intel, Nokia and Toshiba. Toshiba said it will be offering a Bluetooth PC card later this month.