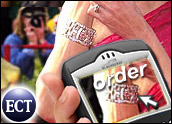 Retailers and the entertainment industry have been a combined force for years. Designers jump at the chance to drape their latest fashions across celebrity shoulders in an effort to reach the consumer.
Until recently, however, that viewer would be hard pressed to actually locate that slinky little beige number worn by Lauren Conrad last week on "The Hills," even if they stuck around to watch the credits roll.
Thanks to a growing arsenal of media rich, entertainment oriented Web sites, now you can.
Web Shopping 3.0
A new generation of e-commerce sites have made it their mission to make Hollywood shoppable for the average person the way it has been for celebrities and movie stars for years.
The result has been a revolution in shopping online that has ushered e-commerce into the realm of 3.0.
Through Web sites like SeenON! and it's parent company Delivery Agent, GET Interactive and magazine style sites like Celebrity Style Guide and Glam consumers can pick and choose from almost anything they see in the entertainment world.
Propelled by an increase in broadband penetration and a desire to meet the evolving demands of the online consumer, companies like Delivery Agent link to online retailers that sell products seen on television, in films and music videos, and in the sports world.
"You could see video clips from a show like 'The Hills' while shopping for items from that show," said Delivery Agent Chief Executive Officer Mike Fitzsimmons. "Delivery Agent is focused entirely on sharing commerce to the entertainment industry, to utilize the assets to our partners."
Their partners include such industry giants as ABC, NBC, MTV, E, Style, Fox and Martha Stewart Living Omnimedia.
Searching Shopisodes
Fitzsimmons said his company offers consumers not just goods, but an experience. An example of these experiences is Delivery Agent's Shopisodes.
Shopisodes are an ever-growing collection of interactive videos that allow consumers to shop for items directly from a clip of their favorite show.
As the clip is playing, visitors can select and purchase the products that appear in the video.
Easy navigation allows viewers to select a network, which then presents a number of options for viewing.
"I saw the 'Ugly Betty' Keds shoes, I wanted to have them, so I bought them," said Karie Porter, a 27-year-old social worker. Porter, an "Ugly Betty" fan, said she regularly visits entertainment based e-commerce site, SeenON.
"Most of the time I don't plan on buying anything," she said. "In fact, I never do, it just sort of happens. Maybe that's how they get you."
Porter, who lives in Phoenix, Ariz., said she logs onto SeenON once or twice a day, about as often as she checks her MySpace account.
By marketing entertainment world apparel, jewelry, electronics, furniture, appliances, etc., this star-studded form of e-commerce offers a powerful alternative in the multi-billion dollar industry of online sales — an industry which has for years relied solely on the traditional, catalog style retail portal.
As the name suggests, SeenON consumers are made privy to merchandise that has been "seen on" TV — within an hour of its air time.
"Our focus is on leveraging our partners' content to create an emotional brand and connection between the products and entertainment properties themselves," Fitzsimmons said.
Across the top of the site is a tool bar that lists portals such as TV, celeb style, film, music, products, videos, blog, etc.,
The toolbar's rollover functionality reveals a number of choices for each selection. Users can also search for products by show, movie, actor or product type.
"We work with our partners on the info side; oftentimes those products are expensive products, these are celebrities," Fitzsimmons said. "We often offer a look for less option. We present the consumer with a comprehensive buying experience that is more affordable."
A science-fiction buff could check out "Heroes" merchandise at the NBC Universal store. The link is accessible via a visit to the front of Delivery Agent's front door. Purists, however, can opt for the Sci Fi Channel through the same page.
Movies, Music Videos, Too
In a similar vein, GET Interactive is a company with a mission to make all video content shoppable. They have developed an online shopping system that allows Internet users to buy the products they see in movies and music videos.
The company also created a pilot program for the movie "Freedom Writers," starring Hilary Swank. Customers can buy some of the items worn by Swank, Harrison said..
Consumers can roll their computer mouse onto photos and video stills on GET Interactive's Web site.
Clothing and jewelry companies pay GET Interactive a flat fee to sell their advertising online.
"We want to create an opt-in branding experience for consumers so that they can choose to seek out the brand they care about and it's embedded in the content they care about," said Rick Harrison, GET Interactive's CEO.
The site is fully interactive, including a blog which allows consumers to share information about sought after products they've seen on their favorite shows, movies and celebrities.