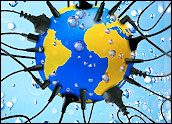 The majority of global markets are growing significantly faster than the United States. Bill Gates has even stated that in the 21st century, a business must use e-commerce to survive. In this economy, thinking outside the proverbial box and expanding a company without taking on significant overhead or structural changes means selling beyond geographic borders.
Using the Internet to lower communication costs and reduce time to market for exported goods and services makes international e-commerce a viable platform for businesses engaging in international trade. Nonetheless, the relatively seamless, cost-effective integration that a Web solution company performs by enabling a merchant's site to process international orders pales in comparison to the challenges of ensuring that both the seller and consumer are protected against fraud, as well as the tedium of high-maintenance customer service and compliance regulations. These hurdles are the primary reason that fewer merchants are making their products available to foreign markets, leaving potential profits, new customers and worldwide demand unfulfilled.
International e-commerce is within reach of every retailer large or small, even those without a global brand. However, merchants must ensure they are positioned to manage the multiple issues surrounding international shipping or they risk jeopardizing their identity in foreign markets. There is a wide variety of front-end and back-end operating models, as well as third-party international shipping companies, that specialize in cart-to-cart integration and are equipped to both manage and capitalize upon industry opportunities.
Industry Trends
Size Doesn't Matter. Many U.S. businesses are looking for low-cost options to benefit from international consumer demand. Driven by booming cross-border business and the struggling U.S. dollar, global shipping and Web solution companies are quickly emerging to compete for contracts with online merchants that range from small to multi-million-dollar accounts.

For example, Web sites that allow independents to build their own virtual points of sale, such as Yahoo Stores and Miva Merchant, could benefit from working with a third-party international solutions provider. Their operations and shipping expertise enables almost anyone from fortune 500 companies to "mom and pop" vendors to operate at their full potential globally. Regardless of the size of the company, e-commerce departments are adapting to take on orders from this untapped marketplace. Some retailers are seeing 20 percent of their traffic from international customers. This type of technology makes the transition from local to worldwide selling safe and affordable for all.

Keep It Simple. Easy purchasing steps are of prime importance to foreigners who posses varying Internet capabilities and downloading times in their respective countries. Additionally, considerations for automated landed cost calculations, such as duties and taxes, local international forms of payment, costs displayed in local currency and multi-lingual customer care agents, are game-changing factors in the eyes of the international online shopper. Ensuring the global checkout prototype is equipped with the same clear-cut options as a domestic transaction allows the consumer to feel more comfortable with their decision and, most important to the bottom line, helps expedite sales.
Protect Your Neck. Abandoned shipments, costly international returns and international fraud is high, as are the associated financial risks. Studies show the global fraud rate has increased 67 percent since 2005.

Many retailers are now working with a Web solutions company that assumes the costs on behalf of the merchant, screens international orders and is committed to making sure that the retailer does not come out of pocket for refunds or faulty purchases. By placing the onus on the international service provider to be accountable for the processing of these transactions, the retailer arguably has a lot less to lose in the foreign market.

The Clock Is Ticking. Of prime importance is the turnaround time between the moments the shopper checks out to the actual doorstep delivery. Fulfilling orders quickly and effectively, including properly understanding the product categorization and documentation process in avoiding unnecessary delays at customs, has become increasingly important. When shipping internationally, be sure to provide tracking numbers and follow through accordingly.

Speaking your customer's language also helps to speed up communication for easy conversion and repeat business. Using an international solutions provider that has multi-lingual customer service agents is a key aspect of tackling international e-commerce. Now companies can easily set up a U.S.-based Web site to convert correspondences into the country/language of the merchant's choice, either with a drop-down menu or automatically from the customer's IP address.

Mind Your Shipping Costs. Shipping costs are an ongoing, variable factor that can become very expensive — it's the price one pays for doing cross-border business. Retailers need to continually find a balance between covering their costs and offering the best rate possible to their customers. Merchants that lack experience shipping worldwide often find many hidden fees that arise with international orders, such as duties and taxes, prepay fees, or costs incurred with abandoned packages.

It's not typical for a retailer to provide free shipping internationally — even retailers with gracious margins would not cover themselves with this kind of offer. Nevertheless, even with higher transport fees, international customers are willing to pay to get the brands and items they want because they may not be able to buy the item locally. In many cases, the total cost, including shipping, is still cheaper given the significant savings with the weak dollar and product price. For example, the popular Ray-Ban Outdoorsman sunglasses sell for the equivalent of US$151 from a UK local site and only $94 from a U.S. site that ships to the UK. With shipping charges tacked on, it still makes sense for them to buy from the United States.

Use Search Engine Optimization (SEO) & Online Marketing. Just because cross-border business is booming doesn't mean one should neglect marketing internationally. To identify what items are most requested and searched for online and to develop stronger customer relations, merchants are spending money on adapting their sites for optimal performance and return on investment. SEO, PPC, social media and regional press should all be strategically included in an international launch at some point.

Additionally, email marketing remains a cost effective way to build customer loyalty and drive sales. U.S. retailers are now not only reaching out to their nationally-based customer list but are becoming creative in tailoring specific campaigns for their international customer base. By speaking their language and highlighting products of demand, merchants are tapping into a whole new, exciting marketplace.

America is witnessing exponential growth with a new market of international customers who have money to spend and a strong desire for competitively priced U.S. products. Internet spending in Europe alone will reach $149 billion by 2010, with more than 145 million European Internet buyers.

Items that are difficult to find abroad attract a substantial customer base for merchants. Developing an efficient hands-on approach to fulfilling orders as well as keeping abreast of industry trends, challenges and regulations are a must. Going global takes a commitment and effort, and by either tackling it in-house or using a third-party international e-commerce checkout and shipping solution, these options could very well enable a company of any size to go global within a week.
---
Colleen Francis
is vice president of business development for
iShopUSA
.