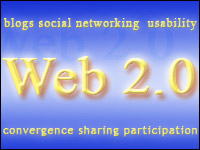 How we communicate has always had a dramatic impact on business. The telephone made the "sales call" possible; soap company advertising created a whole genre of radio and TV programming; the Internet enabled the "live demo." Business is about connecting with your consumer, and the earlier your company takes advantage of emerging communication opportunities, the more likely you will own the consumer relationship around which you can build your business.
Today, the emergence of social media is again changing the game, and you need to be aware of how in order to make sure that your own approach to online commerce is engaging your audience where they are and how they prefer, while taking full advantage of the opportunities presented by this evolving communications dynamic.
Social networking has redefined the way people interact on the Internet, and it has expanded the e-commerce landscape beyond the scope of single sites. Online business is no longer just about buying and selling; consumers are looking for more than direct access to information about products and services.
Peer Review
Potential customers want to know what other users think about products they are considering. They want to get first hand accounts about quality, performance and customer service. Most importantly, they want relationships with other users and with the selling company so they can make informed decisions. In an economy where money is tight and there is a lot of competition, engaging through social media has become a critical element of the buying cycle.
There are a lot of consumers who are more than willing to share their experiences on platforms like Facebook, Twitter and YouTube. Fortunately, companies have access to these same social media tools. By using them strategically, you can build relationships with consumers around your brand and influence their purchase decisions.
A strategy that integrates the social Web with your own website and e-commerce plan will drive revenue growth, expand brand awareness, and increase customer loyalty and satisfaction. Implementing a social media strategy is not without potential pitfalls, but these challenges can be turned into a strong foundation for your success.
Social Challenges Require a Social Expert
In order to execute on any strategy based on these core needs, companies need to engage an expert in social media, one who can identify the specifics of how the strategy will be executed. Only a dedicated resource can devote the time and energy to managing and evolving a plan such as this to a successful outcome. A social media strategist is your go-to resource for your specific strategy.
The strategist's goal, of course, is to build a community on and off your website around your brand — and use that community to increase awareness, drive revenue, and increase loyalty to your company. This kind of marketing is the key to your company's success, and the brand message needs to be distributed consistently across all of your digital channels — from your website and e-commerce channel to micro-messaging on Twitter, to posts on a Facebook group. Participation in these channels has to be efficient and timely; missing opportunities to inform and educate potential buyers can have disastrous effects.
Brand Awareness
Brand awareness is the clearest benefit of being linked to social media. It is also intrinsically connected to the other broad strategic goals of revenue growth and customer loyalty. In order to build your community and bring consumers to your website, your company's message (and therefore the site's content) has to extend beyond it.
Press releases, videos, images, product announcements and more need to be distributed to social platforms at the same time that they are posted on your site. Simultaneous deployment to your YouTube channel and your Facebook group ensures that every member of your existing audience is aware of what you are doing. It also exposes your brand to consumers who are not yet your customers.
This content, just like the content on your website, should be deployed through your Web content management system to ensure consistency, accuracy and timeliness of your message. Notification of new content will pull visitors back to your site, generating leads and pushing consumers closer to making a purchase.
Your Community, Your Site
The community you are reaching out to, the one that you are pulling to your site with content, should be able to be active on your website as well as out in the larger social space. By offering product forums, blogs, micro-messaging and commenting on your own site, you are giving visitors the opportunity to continue the conversation.
The content they generate around your brand experience is as valuable as the "official" content that you are publishing; consumers are more likely to trust their peers over advertisements. These active brand advocates will give informed opinions on and off your site, promoting and defending your brand and products.
On the e-commerce side of your site, the traditional commenting, ratings and reviews continue the trusted community experience directly around your products. Here, as consumers are moving forward with their purchase decisions, they have the opportunity to interact with their peers and see the final opinions of other reviewers. This user-generated content has the same value as the opinions and advice contributed by visitors to other parts of your site.
Customer Loyalty
Your company's participation in social media is more than just sending content to the community. You need to participate in the conversation with the intent of building relationships. Answering questions, pointing consumers to solutions and ideas, and asking for input all create the transparency today's consumers are demanding.
Where content distributed to social media improves brand awareness, your direct communication in the medium goes deeper, creating brand trust. This level of trust promotes customer loyalty and turns consumers into the brand advocates that you want talking about your products and services.
Building relationships is critical to the success of your company, and the stronger those relationships are, the more successful your business will be. Social media engagement is replacing mainstream advertising as the most direct way to build and maintain relationships with customers and prospects.
An efficiently executed social media strategy that is founded on the principle of building customer loyalty will lead to revenue growth and ensure the ongoing success of your company.
---
Bill Rogers
is the founder and CEO of
Ektron
, a provider of Web content management, social software and e-commerce solutions.