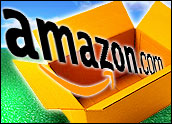 Amazon on Thursday announced Handmade at Amazon, a new specialty site designed to sell original handcrafted wares to a unique set of customers in a market led by rival etailer Etsy.
Etsy, in its 10th year of operation, put the retail industry on notice in April, when its share price rose to US$31, up 88 percent from its initial public offering price of $16. However, its stock price recently has struggled amid concerns about the company's long-term outlook.
Handmade at Amazon will feature products in six categories: jewelry, home decor, artwork, stationery and party supplies, kitchen and dining, and furniture.
"We have designed a custom shopping experience for customers looking for handmade items by bringing together many of the best artisans in the world, and they're adding thousands of items daily," said Peter Faricy, vice president for Amazon Marketplace.
Site Features
The Handmade at Amazon site will feature more than 80,000 quality handcrafted items from more than 60 countries around the world. The artisans selling the wares can personalize more than 30 percent of the items, Amazon said.
Artisan profiles will include descriptions of their products and their locales. All 50 U.S. states are represented.
More than 600 handmade items will be eligible for Prime, Amazon's popular subscription service, which gives members free two-day shipping along with video content, special sales, book lending and other exclusive programs. Prime is available for an annual fee of $99.
Etsy Fight
Etsy officials are ready to meet the Handmade at Amazon challenge, arguing that Etsy has built up a reservoir of support and credibility with its sellers and customers.
"We believe that we are the best platform for creative entrepreneurs, empowering them to succeed on their own terms," said Etsy chief executive Chad Dickerson. "Etsy has a decade of experience understanding the needs of artists and sellers and supporting them in ways that no other marketplace can."
The Etsy platform attracts more than 21 million customers "seeking to discover unique goods, and build relationships with the people who make and sell them," he added.
Etsy reported annual sales $1.93 billion in 2014. It has 1.5 million active sellers and 32 million items for sale, the company said.
The challenge for Etsy will be to take advantage of its long-cultivated relationships with the artisans who sell products on the site, as well as the customers who buy them, in a way that can overcome the overwhelming market power of Amazon.
Amazon's move could force Etsy into a deal to be acquired by eBay, speculated Rob Enderle, principal analyst at the Enderle Group.
However, Etsy provides some personal touches that Amazon cannot provide, he told the E-Commerce Times.
"This would be more taking away a growth opportunity for eBay and going after much weaker Etsy," suggested Enderle. "Amazon is far stronger in reach, but with artisans you need to provide a personal relationship, and they aren't good with that."
Amazon already has invited artisans to join the program, and it has a site that instructs potential sellers how to join. Amazon is charging a 12 percent referral fee and no listing fee for now, while Etsy charges a fee of 3.5 percent for products sold and 20 cents for each product listed.