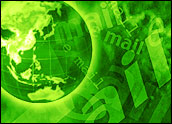 Vendors seeking to provide cloud-based information technology to federal agencies now have some idea of the potential market for their offerings. The General Services Administration (GSA) has asked vendors to submit bid and qualification information that could lead to their selection as contractors for email systems operating via cloud platforms.
While GSA does not guarantee the number or amount of contracts under the program, the blanket purchase agreement (BPA) solicitation allows for a potential total expenditure of US$2.5 billion over five years.
"GSA's cloud offering will provide agencies with an easily accessed email and collaboration platform to better support agency missions and mobile work forces at a reduced cost," said GSA Administrator Martha Johnson. "Cloud solutions will help agencies significantly cut costs and provide an easy and secure means for agencies to meet the administration's mandates for migrating IT services to the cloud."
The BPA mechanism is designed to facilitate individual agency procurement. Contractors selected by GSA to provide the Email as a Service (EaaS) cloud capability are then eligible to be awarded task order contracts by various federal agencies.
As a result, the agencies are not burdened with having to spend time and resources developing their own contract and procurement vehicles. In addition, the process will result in creating a roster of many vendors, allowing agencies to choose a provider that best suits their individual objectives.
Many Potential Vendors
"We anticipate making multiple awards under this BPA," William Lewis, director of the portfolio management division at GSA, told the E-Commerce Times.
GSA appears ready to move the selection process along expeditiously. The agency has asked vendors to submit their bids by June 19. Last December, the Obama administration issued a requirement that major agencies within the federal government move at least one service to the cloud within 12 months, and two more within 18 months.
GSA is not only supporting adoption of the cloud, but also attempting to ensure that cloud services will be provided at low cost. In anticipation of a high volume of potential projects, GSA has asked vendors to price services at a discount from current levels.
One aspect of adopting cloud technology that has concerned federal agencies is the need to provide adequate security.
"The GSA contract requirements for security are robust. In terms of a template for providing security services to alleviate each agency having to do its own security work, the Federal Risk and Authorization Management (FedRAMP) program is designed for that purpose," Lewis said.
GSA is currently developing FedRAMP standards, and has been working with federal agencies and others to develop an appropriate security template. The BPA sets security requirements for vendors and requires that any cloud adoption meet the FedRAMP criteria within six months after the standards are adopted by GSA.
The GSA contract specifically requires that providers include full Web-browser integration capability with Internet Explorer 7, Chrome, Safari and Firefox. The BPA prohibits the use of streaming advertisements in the email systems.
The GSA contract could significantly benefit the cloud vending community.
"This is a transformational period for government as agencies examine their overall IT infrastructure and move more workloads to the cloud," Microsoft spokesperson Matt Donovan told the E-Commerce Times. "GSA's Email as a Service RFP offers an approach for agencies looking to tap into the power and flexibility offered by cloud computing."
Microsoft's enterprise approach to cloud deployment has facilitated the planning and migration process for customers, he noted. "This is not a question of 'if' customers will move email services to the cloud — it's a matter of when. The GSA's approach, with multiple options, will help government customers chose the model best suited for their requirements."
NIST Offers Guide
Just after GSA released its solicitation, the National Institute of Standards and Technology (NIST) issued the draft of a comprehensive guide to cloud computing, primarily for use by government agencies seeking to move portions of their IT operations to the cloud environment.
The guide explains cloud technology in plain terms and provides practical information on adoption. The document includes discussions of Software as a Service, Platform as a Service and Infrastructure as a Service. The publication provides information on the relative opportunities and risks of utilizing cloud computing since applications can vary significantly.
"Cloud computing is not a single kind of system," said NIST project leader Lee Badger. "Since cloud computing spans a spectrum of underlying technologies and configuration possibilities, each organization's requirements call for different cloud technologies and configurations."
While the GSA contract and NIST's guide are directed toward facilitating adoption, they address different aspects of the federal cloud initiative.
"The NIST document offers technical observations about different kinds of cloud systems," Badger told the E-Commerce Times, "but it does not does not offer procurement advice."