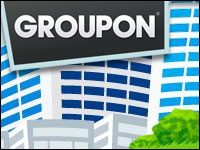 Groupon's stock slipped a little on Wednesday, following Tuesday's dramatic 40 percent spike on the news thatAlibaba had purchased about a 5 percent stake in the company.
Alibaba last week disclosed in a filing with the Securities and Exchange Commission that it had bought about 33 million shares of Groupon.
The disclosure boosted shares of Alibaba, as well as the struggling Yahoo, which owns a stake in Alibaba.
Groupon last week released an encouraging Q4 earnings report, and the company's stock rose by roughly 29 percent.
Love Triangle
Yahoo received a roughly 9 percent bump between Friday and Tuesday, and the Alibaba Group saw its stocks rise in similar fashion. Yahoo might have seen a bigger surge if it hadn't sold off 140 million of its Alibaba shares during the company's initial public offering in 2014.
The relationship has the potential to continue rewarding all three parties in the near term and well into the future, according to Andy Abramson, CEO ofComunicano. Groupon can serve as a vehicle to extend Alibaba's reach to its partner shops and retailers.
"Alibaba has an incredible pipeline of suppliers who need to bring their technology products into the U.S.," he told the E-Commerce Times. "On the flip side, Groupon's platform is ripe for expansion into Asia, and no organization has the sort of footprint across southeast Asia, especially China and Hong Kong, as Alibaba does."
Alibaba has to leverage the Groupon technology to increase visibility and traffic abroad. If it can pull that off, "the investment gets paid back very quickly," noted Abramson.
There's a lot Alibaba can do with its stake in Groupon, but the company is likely looking for a bigger portion, said Justin Hamel, CEO ofMastaMinds.
"It appears that Alibaba is like a shark in the water, circling and waiting to devour a bigger position in Groupon," he told the E-Commerce Times. "It looks like they may be using Groupon as a strategy to expand their market share in the U.S. market. Not a bad move in my opinion."
Groupon Regroups
Despite beating analysts' expectations with revenue of US$917 million for the fourth quarter, Groupon is in the midst of a turnaround. It started the daily deals craze, held its turf against potential usurpers and has managed to stay alive while rivals faded away.
"Its clear that Groupon's business model went from 0 to 100 to 0 real quick," said Hamel. "I wouldn't exactly write Groupon off at this point. They have a huge customer base and a solid brand name."
Seeing what others may not have seen, Alibaba refused to write off Groupon. Last's week Q4 earnings report shows that Groupon's rebuilding plan has been effective, at least in part.
Late last year, the company cranked up its turnaround effort by switching out its CEO with COO Rich Williams and pulled back its reach to focus on markets in 28 countries instead of 45. Groupon also laid off about 1,000 members of its workforce.
"What Groupon needs now is a new angle," Hamel said. "Groupon's previous angle using the daily deals has fizzled out."