Sink or swim is what today's e-commerce game is all about, according to AI-powered e-commerce search platform GroupBy. The firm plans to offer marketers and retailers a lifeline to stay afloat.
GroupBy on Thursday will conduct an online panel presentation to bridge the gap between consumers and merchants.
Topics will focus on strategies to drive sales and enhance the customer experience in retail. Critical approaches include:
How brands can use artificial intelligence technology to operate their business to create better customer experiences;
Why e-commerce retailers must blend their omnichannel experiences with personalization to deliver true value to their customers;
Striking a balance between AI and manual intervention;
Ways to secure a predictable revenue stream to future-proof a business;
Why modern retailers are switching from rule-based to revenue-generating merchandising.
The 45-minute panel discussion, "6 Key E-commerce Strategies to Help You Bridge the Gap Between Consumer and Merchant," starts Oct. 12 at 1 p.m. ET / 10 a.m. PT. Registration is free.
Presentation Preview
The panel will consist of Brendan Witcher, vice president and principal analyst at Forrester, Arv Natarajan, director of product at GroupBy, and Kole McRae, business intelligence manager at GroupBy, who will serve as panel moderator.
We asked Natarajan to share in advance some of the content they will be presenting.
E-Commerce Times: What is causing an e-commerce gap between consumers and merchants?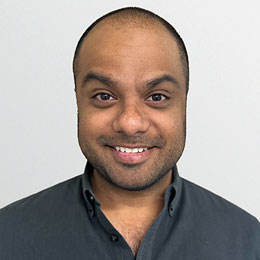 Arv Natarajan: Some retailers continue to do what they have always done despite changing consumer expectations and technological advancements. The issue is that you will fall short of those expectations when you do not adapt to market changes.
Today, retailers lack time to strategize. They spend so much time maintaining their day-to-day activities that they do not have room to think about what is next or what could improve.
This challenge is especially true for merchandising teams who spend hours hand-tooling rules for product search. While they have had their heads down, what consumers want and expect has changed.
What shopping or marketing trends are contributing to this gap?
Natarajan: The rapid growth in e-commerce and the influence of retail giants like Amazon set the bar for what the online shopping experience should be. In addition to an increase in online customers, it has been difficult for retailers to keep up with demand while also improving their online experience.
How can brands use AI technology to create better customer experiences?
Natarajan: AI is game-changing for retailers. Allowing their teams to focus more of their efforts on strategic areas means that they have freed up their time from the day-to-day activities that they were spending their time on before.
This approach lets retailers create efficiencies without eliminating the human component. AI can improve efficiency and productivity, but it cannot replace the human element.
Why must e-commerce retailers blend their omnichannel experiences with personalization to deliver true value to their customers?
Natarajan: They must expand their definition of personalization beyond creating product recommendations. That is just one application. Personalization is really the creation of relevant, value-adding experiences.
Customers expect to get personalized recommendations whether they are on the retail website or using the app. Omnichannel is all about delivering a consistent experience across every channel.
How can retailers achieve this with the rapid approach of the holiday shopping season?
Natarajan: The very first step is that retailers must ensure they share the same data across all their channels. If brick-and-mortar stores use different inventory than their online store, that's an inconsistent experience. If the website uses different customer data than the app, customers won't get the same recommendations and will get frustrated.
Addressing these inconsistencies isn't something to do in the future, either. It's something to do right now, and brands can no longer hesitate to embrace new technologies. They're already being left behind.
Why are modern retailers switching from rule-based to revenue-generating merchandising?
Natarajan: Rule-based merchandising is very labor intensive and cuts into time merchandising teams could spend on other tasks, like campaign strategy, improving processes, or investigating new technologies. Revenue-based merchandising asks retailers to dedicate most of their resources to the tasks and opportunities that bring the most value.
What are the pros and cons of not switching?
Natarajan: As with any new tech, there is an upfront investment cost and a learning period as teams navigate the transition. However, the long-term benefits are significant.
One of them is how accessible the technology is to everyone. A second is the ability to free up merchandising teams to focus on strategic revenue-generating tasks such as growing their catalog or enhancing campaigns instead of spending time fixing their search engine's shortcomings.
What is important for marketers and retailers to know about using AI properly?
Natarajan: It is important to differentiate AI-first from technologies with AI functionality. Many technologies and platforms claim to be AI when, in reality, only an element or two are AI-driven.
AI-first solutions are built entirely around the capabilities of AI. In GroupBy's case, Google's advanced understanding of user intent and context based on its deep search data and Google shopping. The engine can be tuned automatically to optimize business objectives.