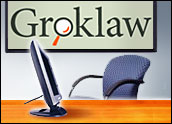 The continuing flood of news about the NSA's surveillance of Americans' communications, which has already forced secure email providers Lavabit and Silent Circle to shut down, has now claimed yet another victim.
Specifically, award-winning tech legal news site Groklaw, which served the free and open source software community, on Tuesday announced that it is closing because of email security concerns.
"They tell us that if you send or receive an email from outside the U.S., it will be read," explained founder Pamela Jones. "If it's encrypted, they keep it for five years, presumably in the hopes of tech advancing to be able to decrypt it against your will and without your knowledge."
The email surveillance means "there is now no shield from forced exposure," Jones added, citing the closure of Lavabit specifically as another motivating factor.
Groklaw did not respond to our request for further details.
'Society Suffers'
"The tech community has lost one of its best and most reputable sources of information," Yasha Heidari, managing partner at the Heidari Power Law Group, told the E-Commerce Times. "Any time the free exchange of ideas is quashed, society suffers."
Indeed, Groklaw's closure "is a good indication of the chilling effects that mass surveillance has," Nate Cardozo, a staff attorney at the Electronic Frontier Foundation, remarked.
"It shows that the kind of mass surveillance we have been suing over for the last several years is, first, true; and second, it has real negative effects on American business and on the free exchange of ideas," Cardozo added.
'Real Consequences'
Jones cited excerpts from a book by Janna Malamud Smith titled, Private Matters: In Defense of the Personal Life as one influence on her thinking.
Destroying a person's privacy and his safety in private is one way of destroying an individual short of outright murder, Smith wrote in one excerpt, for example.
"The totalitarian state watches everyone, but keeps its own plans secret," reads another. "Privacy is seen as dangerous because it enhances resistance."
Michael Hayden, a former director of both the NSA and CIA, earlier this month warned that hackers and transparency groups might launch cyberattacks if the United States government were to bring NSA whistleblower Edward Snowden back to the U.S. for trial.
Of course, Jones "is not a terrorist and has nothing to hide," the EFF's Cardozo told the E-Commerce Times. "The fact that she feels compelled to close shows that the sort of [surveillance] programs we've been learning about for the past few months have real consequences."
Gotta Play Together
Things "are certainly as bad as Jones claims," Heidari said. "The recent government scandal overshadows every other scandal in the U.S.'s history by a significant margin. Also, the scandal today directly impacts each and every citizen. In no time in history could surveillance be conducted in such an efficient and widespread manner."
The key issue is whether Groklaw's closure is a sign of things to come, Robin Feldman, a professor of law at the UC Hastings College of the Law, told the E-Commerce Times.
"The Internet ecosystem … is somewhat like the international monetary system: It works because we are all willing to believe and to play along," Feldman explained. "Widespread withdrawal or nonparticipation could damage the fabric."
'Not the Best Answer'
Nonetheless, it is still possible to run a tech site, contends the EFF's Cardozo.
"We here at EFF will continue to run our site," Cardozo continued. "I would not advise others in [Jones'] position to close their websites. I think we need to continue the public dialogue, and pulling out of the dialogue is probably not the best answer."