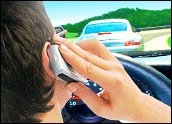 There are more than 6 billion mobile devices in the world, says Wikipedia. As of last July, there were more than 321 million wireless subscriber connections in the U.S. alone, according to CTIA-The Wireless Association. Of course, it is impossible that 101 percent of U.S. residents have wireless connections, so that means many of us have multiple subscriptions.
Given the wide penetration of wireless gadgets, it is no surprise that GPS location devices are now getting a great deal of attention in both civil and criminal courts.
GPS Tracking in Divorce
After a divorce case in New Jersey, the husband sued an investigator who tracked him on a GPS device his wife put in the glove compartment of their SUV. In 2011, the New Jersey Court of Appeals ruled as follows in Villanova v. Innovative Investigations, Inc.:We hold that the placement of a GPS device in [husband's] vehicle without his knowledge, butin the absence of evidence that he drove the vehicle into a private or secluded location that wasout of public view and in which he had a legitimate expectation of privacy, does not constitutethe tort of invasion of privacy. (Emphasis added)Of course, using electronic data as evidence is old news. A "resounding 88 percent of the nation's top divorce attorneys said they had seen an increase in the number of cases using electronic data as evidence during the previous five years," the American Academy of Matrimonial Lawyers (AAML) reported in 2008.
"Many people still don't realize how much evidence can be gleaned from personal electronics ranging from computers to cellphones and GPS devices," said James Hennenhoefer, then president of AAML. "In the Internet age, there is often a very clear trail that has been left behind and can be easily traced."
Given the acrimony in divorce proceedings, it is likely we will see even more use of GPS data tracking of spouses who are allegedly adulterers.
No Expectation of Privacy for Criminals
A cellphone user has no reasonable expectation of privacy, and the Constitution's privacy right under the 4th Amendment was not violated by the police's pinging a GPS device in the defendant's cellphone, New York State Judge John L. DeMarco recently ruled in The People of State of New York v. Devonte Moorer.His order included the following:People are not so oblivious that they are not aware that cellphones purchased today come withGPS technology which can pinpoint the location of the phone at any given time so long as it isturned on and the GPS technology has not been deactivated or disabled … . [and] that technology alsoenables a person to be mobile and have constant access to and use of his cellphone.The Moorer case involved "the fatal stabbing of Calvin Reid in Rochester on June 26, 2011, and authorities' efforts to track down suspect Devonte Moorer and collect evidence linking him to the slaying. Reid's fatal stabbing on a Rochester street corner was also captured on a security camera," the New York Law Journal reported.
Warrantless Tracking of Cell GPS Upheld
No warrant was required to track a drug dealer's GPS locations from his cellphone since the defendant "did not have a reasonable expectation of privacy in the data emanating from his cellphone that showed its location," said Justice John Rogers of the U.S. 6th Circuit Court of Appeals, as he upheld a conviction in U.S. v Skinner on Aug. 14, 2012.
In Skinner, the prosecution relied on GPS location data that the DEA used to follow Skinner — who drove around the U.S. in a motor home filled with more than 1,100 pounds of marijuana.
"When criminals use modern technological devices to carry out criminal acts and to reduce the possibility of detection, they can hardly complain when the police take advantage of the inherent characteristics of those very devices to catch them," Rogers notes in his opinion.
However, the warrantless use of a GPS device that the police attached to a suspect's vehicle precluded the use of the ill-gotten GPS data in a 2012 decision by the U.S. Supreme Court. The Supreme Court ruled9-0 (which rarely happens) in U.S. v. Jones, against the use of the GPS data.
The Court's opinion includes a broader reference to GPS data from wireless devices:… Cellphones and other wireless devices now permit wireless carriers to track and record thelocation of users — and as of June 2011, it has been reported, there were more than 322 millionwireless devices in use in the United States.In the New York ruling in the Moorer case, Judge DeMarco relies on the Jones case and notes Justice Alito's observation of… the increasing availability and use of cellphones, smartphones and other wireless devices that allow wireless carriers to track and record their location and allow them to offer phone-location [and] tracking services as social tools. … These and other new devices will undoubtedly shape the average person's expectations about the privacy of his or her daily movements.Further, Justice Alito made the observation that new…technology may provide increased convenience or security at the expense of privacy, and many people may find the tradeoff worthwhile. And even if the public does not welcome the diminution of privacy that new technology entails, they may eventually reconcile themselves to this development as inevitable.So even though the Supreme Court ruled against using location data obtained without a warrant in a criminal case, it also effectively acknowledged that the perception of privacy of wireless GPS data will likely be changing, hinting that the Supreme Court may revisit this issue in the future. That will surely impact U.S. citizens using smartphones and other wireless devices.