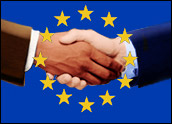 After three years of wrangling with Google over its alleged anticompetitive business practices, the European Union has suggested there may be some light at the end of the tunnel.
"We have reached a key moment in this case," European Commission Vice President Joaquin Almunia, who is responsible for competition policy, said at a Parliament hearing Tuesday.
Almunia had serious doubts that a settlement could be reached with Google after stakeholders roundly rejected the company's initial proposal in a market test last spring, he confessed, but now he is more optimistic.
"With the significant improvements on the table, I think we have the possibility to work again and seek to find an effective solution based on a decision under Article 9 of the Antitrust Regulation," Almunia told Parliament members.
Skeleton of Agreement
Article 9 of the EC's antitrust regulations allows the acceptance of commitments proposed by a company to correct its anticompetive practices.
"We can use them to solve competition concerns more quickly and concretely, with an immediate impact on the market and a forward-looking vision of how the market should function," Almunia explained in his speech.
The alternative to an Article 9 solution is Article 7. It prohibits anticompetitve practices and imposes fines on a company engaged in those practices. Such a solution could cost Google billions of dollars.
Although details of the proposed settlement were not released by Almunia, he did outline its main elements:
All search queries — regardless of whether they're entered by voice or text, and regardless of whether they're entered using a computer or a mobile device — would be covered by the agreement.
Vertical search results — in response to specialized searches for products, for example — would give better visibility to Google rivals.
Auctions for display space on search result pages would be modified to ensure smaller specialized search operators an opportunity to have visibility on search pages.
Restrictions on publishers and advertisers preventing them from displaying advertising from Google competitors on their pages or spreading advertising campaigns used with Google to its rivals would be eliminated.
Profitable Foot Dragging
Despite Google's insistence that it would be giving up a lot to settle with the EC, critics have questioned the viability of the new proposal.
"This has been a very long and very thorough investigation," said Google Senior Vice President and General Counsel Kent Walker.
"Given the feedback the European Commission received on our first proposal, they have insisted on further, significant changes to the way we display search results," he continued. "While competition online is thriving, we've made the difficult decision to agree to their requirements in the interests of reaching a settlement."
Despite Google's "difficult decision" to revise its initial proposal for settling the case, it may have benefited from dragging out its battle with EC regulators.
"The sad part of all this is they've played this out over years, so [the EC] is responding to a way that Google did business years ago," John M. Simpson, director of the Consumer Watchdog Privacy Project, told the E-Commerce Times.
"The company has substantially changed since then. Search used to be their primary source for advertising. Now that they've combined the data streams across all of their services, they're at a much different competitive position that they were when this investigation started," he explained.
"It may well be that by dragging its feet, it could extract unfair profits during this period and benefit from them, and now it's moving on to something else," Simpson added.
More Than Tinkering Needed
Based on the outline of the new proposal revealed by Almunia, it's questionable whether stakeholders will greet it any more favorably than Google's previous one.
"This proposal looks like they're just tinkering with the earlier proposal," Gary Reback, an attorney with Carr Ferrell, told the E-Commerce Times.
"I don't expect this proposal to be any better received than the previous one, which was met with derision and scorn," he added.
However, Almunia could try to use his considerable influence to get the proposal adopted.
"Will he try to accept something that all the interests in Europe oppose?" asked Reback. "I don't know. He was generally shocked by the amount of outrage at what he was doing. He was going to try the last time to cram that proposal through, and there was so much objection he had to back off. My guess is there's going to be another fight like that."
Labeling Not Enough
Based on what's known at this point, Google's latest proposal does seem wanting, suggested the Initiative for a Competitive Online Marketplace.
"It is far from clear from Commissioner Almunia's description of the revised package of proposed commitments that they go nearly far enough to [address] concerns and to restore effective competition," ICOMP's legal counsel David Wood told the E-Commerce Times.
"In particular, the suggestion that consumer harm and lack of choice can be remedied by labeling seems unrealistic," he pointed out.
In his speech, Almunia said he planned to seek comments on the new plan from those who complained about Google's alleged anticompetitve practices and other relevant market participants, with an eye toward getting a final agreement in place by next spring, but Wood questioned that process.
"The plan for the Commission to seek feedback through formal Requests for Information would seem much less satisfactory than a second formal market test," he argued, "not least because it is unclear how much detail of the proposed package and the supporting data will be made public."