A new flagship smartphone, a slick refresh of Pixelbook Go, some home gadget improvements and a revamp of its wireless earbuds highlighted Google's annual hardware event held Tuesday in New York City.
The latest models of Google's flagship smartphone, Pixel 4 and Pixel 4 XL, base priced at US$799 and $899 respectively, will have wider distribution, as they'll be available from all major U.S. carriers from the first day they hit the retail market.
The phones will include an innovative radar chip for sensing motion. The technology speeds up functions like face unlock and enables a number of gesture commands for things like swiping screens and silencing ringing phones.
"In the short run, gesturing is a gimmick, because it doesn't make a lot of sense on a smartphone where most of the time it's in your hand and easy to touch," said Frank E. Gillett, principal analyst at Forrester Research, a market research company headquartered in Cambridge, Massachusetts.
"However, by putting it in a device hundreds of thousands of people will use, they can begin training us that gesture is a possibility for controlling things," he told TechNewsWorld.
That's going to be important for Google in the future when it introduces Nest devices with smart displays. It makes total sense to have gesture control for those devices," Gillett continued.
"You might be in the kitchen and your hands may be messy with food or in the workshop where they're covered with dirt," he said. "So gesturing is perfect for devices with smart displays."
Focus on Privacy
The use of the Soli radar sensor posed some privacy questions for Google, noted Sabrina Ellis, Google's vice president for product management, during her Pixel 4 presentation at the event.
"Since the Soli sensor can detect the environment around Pixel 4, privacy had to be built in from the start," she said.
The sensor can be turned on or off at any time, Ellis said. When it's on, all data is processed on the phone. "It's never saved or shared with other Google services."
Google Assistant received a facelift on Pixel 4, and users are allowed greater control of their data. Users can tell the Assistant how long to store activity data in an account and when to delete it.
"Just tell the Assistant to delete everything you sent to it today or this week and it will," Ellis noted. "You're in control."
Privacy commitments are almost perfunctory at these large company events, observed Mark N. Vena, senior analyst at Moor Insights and Strategy, a technology analyst and advisory firm in Austin, Texas.
"But I'm glad those privacy comments were so prominent in today's announcement, since Google obviously recognizes that consumers are getting more concerned about privacy," he told TechNewsWorld.
"I certainly think that Google is doing all the right things," Vena added. "In some respects they're following Apple's lead, but Google also has more exposure because their advertising business is getting so closely looked at by the federal government."
Camera Improvements
The camera tech in the Pixel 4 received a refresh. At the rear of the unit, there's a 12.2-megapixel f/1.7 main camera and 16-megapixel f/2.4 telephoto one. At the front, there's an 8-megapixel selfie camera.
Google also boosted its flagship camera's computational photography capabilities. For example, it added Live HDR+, which allows a shooter to see HDR effects on the screen before capturing an image.
"So the industry's most successful HDR solution is now real time and WYSIWYG," Google Distinguished Engineer Marc Levoy said at the event.
Pixel 4's camera has dual exposure controls, which allows a user to control the brightness and shadows in a photo with slider controls while it's being composed.
Learning-based white balancing has been expanded across all photo modes for Pixel 4 for truer colors in tricky situations.
Portrait mode has been improved so it can produce more accurate depth in a shot further from the camera. That extends portrait mode to large objects and enables the creation of better bokeh in shots.
In addition, Night Sight is better, with astrophotography added to its repertoire.
---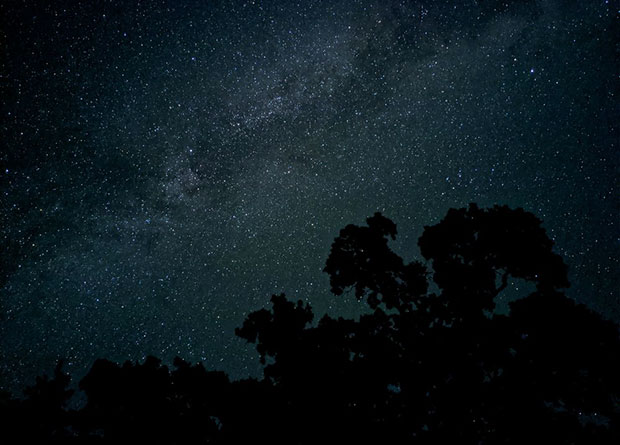 Pixel 4 Night Sight
---
"The Pixel 3 had one of the best cameras ever on a smartphone so I'm pretty optimistic that the 4 will be great, too," said Stan Horaczek, technology editor at Popular Science magazine.
"It's interesting to me that they added a telephoto lens instead of a super-wide like the new iPhone 11 camera," he told TechNewsWorld.
"I think the added depth information will make a big difference for portrait mode and the simulated depth of field effects," Horaczek continued, "but I wonder if people are going to miss that unique perspective you get from the super-wide, which other Android phones also have."
While Horaczek finds computational computing "amazing," it does vary from company to company, he pointed out. "That's why I really like that Google put two exposure sliders in the Camera app on Pixel 4, because you can influence the picture more as you take it."
Pixelbook Price Cut
Google also announced a new Pixelbook Go laptop at its event. It's thin and light, and has good battery life. The base unit sells for $350 less than its predecessor.
"The Pixelbook Go reinforces Google's commitment to the Chromebook category," observed Moor's Vena.
"At $649, it's actually cheaper than Google's last Chromebook notebook, and it's an excellent alternative to the 13-inch Macbook Air or Surface laptop," he said.
Google also announced a refresh of its Nest product line at the event.
It introduced the new Nest Mini, which has improved sound and better speech recognition with three mics and a faster processor. It's priced at $49 and will be available Oct. 22.
New pricing was announced for Google's home management service, Nest Aware. No longer will each Nest device need a separate subscription for the service. An unlimited number of devices can be added to basic Nest Aware at $6 a month; premium service is $12 a month.
"They're lowering the prices and expanding the value to include more Nest devices to broaden the number of people in the service, because an awful lot of people are resistent to the idea of subscriptions," Forrester's Gillett said.
WiFi and Ear Pods
Google introduced its WiFi router three years ago, so an upgrade seemed to be in order. The new Nest WiFi will come with a base router and remote unit, which includes a speaker and microphones, for $269. Google also will sell a package with a router and three "points" for $349.
While priced competitively with other systems in the market, Google's offering does have a major drawback.
"It's disappointing that they did not move to the Wi-Fi 6 standard, which is now becoming standard on new Android and Apple smartphones, as well as new notebooks of all flavors that are shipping this holiday season," Vena said.
"I think some consumers will be disappointed that they will not be taking advantage of the latest Wi-Fi 6 wireless standard, which promises great broadband speeds and low latency," he added.
With the announcement of Pixel Buds at the event, Google is taking another crack at the wireless Bluetooth earpod market. The buds, priced at $179, won't be available until next year, but their specs are inviting.
They have silicone ear tips for better fit in the ear, hands-free access to Google Assistant, sensors that can pick up ambient noise and adjust speaker volume, beamforming microphones that can sense when your jaw is moving to help focus those microphones on your voice, and they can stay connected in up to three rooms indoors and a football field away outside.
"These features," Vena said, "make the Buds 2 a very compelling alternative versus Apple's AirPods."