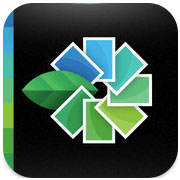 On Monday, news that Google had purchased Nik Software triggered speculation that the Internet giant was following in Facebook's footsteps.
Nik is the maker of the Snapseed photo editing app.
Facebook in April purchased Snapseed competitor Instagram for US$1 billion, and Monday's announcement was seen as a continuation of the rivalry between the social networking giant and Google.
What About iOS?
Google's purchase has left some users of iOS devices wondering whether Nik will continue to support Snapseed on Apple's operating system. Snapseed won the iPad App of the Year in Apple's annual App Store Rewind for 2011.
"Looking for Google to support anything Apple or Apple to support anything Google long term will lead to disappointment," Rob Enderle, principal analyst at the Enderle Group, said. "Neither company wants to work with the other now."
It's "business as usual for now, but stay tuned for future updates and announcements," Google spokesperson Katelin Todhunter-Gerberg told TechNewsWorld.
Nik Software did not respond to our request for further details.
Toe to Toe With Facebook
Google and Facebook have been battling each other in the social media space. Facebook is clearly ahead, with iCrossing predicting earlier this year that the social networking giant would have 1 billion users in August.
The speculation for some time has been that Google+ is withering on the vine, and Google fought back on Monday, announcing that its social network now has more than 400 million members and 100 million monthly active users along with its disclosure of the Nik purchase.
Facebook's purchase of Instagram in April sparked questions about whether company CEO Mark Zuckerberg had begun losing focus, but perhaps shrewder heads might have foreseen Google reaching out for a photo editing app vendor to snap up.
Snapseed and Instagram are battling head to head — last year, Instagram won the iPhone App of the Year title while Snapseed took the title for iPad apps.
"Since Pinterest, there has been a lot of interest by both firms in photos," Enderle said. "Google's focused on Facebook while Facebook is afraid of being rendered redundant by smaller, more focused services like Pinterest."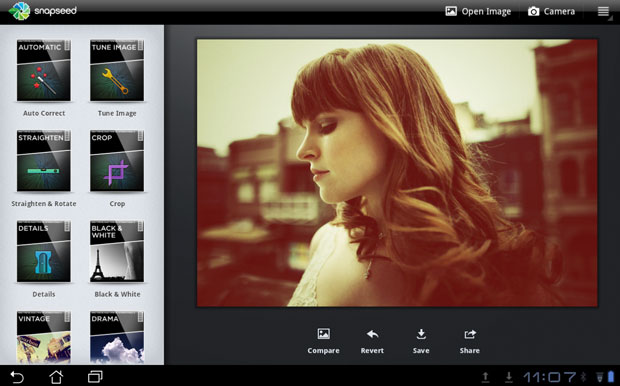 Snapseed, as it appears on an Android tablet
Pinterest offers users a visual pinboard on the Internet to share their photos. It launched iOS and Android versions of its app in mid-August.
What Happens Now?
Versions of Snapseed for iOS, Mac OS X and Windows are already available, and Nik was reportedly working on an Android version prior to its being purchased by Google.
"I think [Snapseed] are likely to focus on Google's platform, either believing Apple won't approve the app or simply to make Android more compelling in comparison," Enderle told TechNewsWorld. "Apple will likely see photo apps as being competitive over time, and make approval more difficult."
Is Google Lost in the Wild?
"Google appears to be increasingly driven in different directions by competitors, and they may be losing who they are," Enderle opined. "They seem to be trying to be a better Apple and a better Facebook when they instead should likely be trying to be a better Google."
The leaders at Google "seem to be losing their identity and letting others dictate their direction," Enderle remarked. That "will be a path that they, like Microsoft did, will regret."
However, Facebook may not be much better off with its purchase of Instagram. "These firms should be anticipating and driving their respective markets, not being driven by companies that are either in different markets or are bit players," Enderle said.
These purchases were made "because [Google and Facebook] aren't closely coupled with their customers and are betting that someone else knows better than they do," Enderle speculated. "Both firms may be surprised."