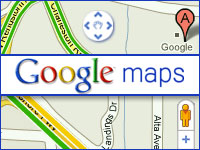 Google will limit usage of its Maps API (application programming interface) starting early next year.
Starting early 2012, websites and apps using Google Maps APIs can generate up to 25,000 map loads per day for each API and up to 2,500 map loads per day for APIs that have been modified using the Styled Maps feature.
Exceeding these limits will give users three options: Limit the number of map loads generated to stay within bounds, pay for excess map loads, or buy a Maps API Premier license.
The charges will range from US$4 to $10 per 1,000 excess map loads.
However, the payment for excess map loads option won't be available for the Maps API for Flash.
Google will soon add the Maps API to the Google APIs Console so users can track the number of map loads their sites generate.
Glomming Onto the Maps Guzzlers
"Google's just shifting heavy industrial users to a fee arrangement," remarked Rob Enderle, principal analyst at the Enderle Group. "These are their most costly users, and they would just as soon these users use another service anyway."
Only the top 0.35 percent of sites will be affected by the charges, and then only if they continue to exceed the usage limit, Google spokesperson Deanna Yick told TechNewsWorld.
"By introducing these limits, we are ensuring that Google can continue to offer the Maps API for free to the vast majority of developers for many years to come," she added.
Who's Gonna Pay, and How
Non-profits and applications that Google deems in the public interest, such as disaster relief maps, are not subject to usage limits.
However, Google recommends that eligible non-profits apply for a Maps API Premier license through the Google Earth Outreach program. This provides certain benefits, including the right to opt out of advertising, higher quotas for Maps API Web services and technical support.
Users of the Maps API for Flash should either migrate to the JS (JavaScript) Maps API v2 or buy a Maps API Premier license, Google stated.
Excess map loads will be sold online through the Google APIs Console. Usage will be calculated daily and the excess billed monthly to a credit card.
Sites that consistently generate a high volume of map loads daily may find the Maps API Premier license more cost-effective, Google said.
Defining Map Loads
In the context of the usage limits Google's introducing, a single map load will be generated when one of the following four events occurs:
The Maps JavaScript API version 2 or version 3 is loaded by a Web page or application
An SWF that loads the Maps API for Flash is loaded by a Web page or app
A single request is made for a map image from the Static Maps API
A single request is made for a panorama image from the Street View Image API.
SWF is a file format for multimedia, vector graphics and the ActionScript object-oriented language in the Adobe Flash environment. SWF files can contain animations or applets. SWF is the dominant format for displaying animated vector graphics on the Web.
The Impact of Charges for Google Maps
Charging high-volume users of Google Maps lets Google "address what may be coding inefficiencies on the part of these users and force them down a path of caching which would lower its overhead," Enderle told TechNewsWorld.
Whether this may see an outflow of users to the map services offered by Yahoo or Microsoft is uncertain.
"Yahoo is just not in very stable corporate shape right now, so I think Microsoft may benefit," suggested Chris Selland, chief marketing officer of Terametric and a Focus.com marketing expert.
However, Google is the current leader in online maps, so "sites will find it problematic to find an alternative customers will use," Charles King, principal at Pund-IT, told TechNewsWorld.
Further, the integration of Google Maps with Android phones "means that sites [that move away from Google Maps] will also risk losing users of the world's biggest and fastest-growing smartphone platform," King pointed out.