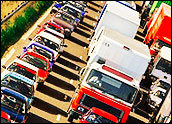 In partnership with Nvidia and several automakers, Google on Monday announced the creation of the Open Automotive Alliance, an effort designed to further its push into the automobile industry.
Audi, General Motors, Honda and Hyundai are among the effort's partners on the automotive side.
The alliance will create a common platform members can use to create Android-enabled vehicles, the first of which are scheduled to hit the market later this year.
The platform will "bring Google Places, Maps, Voice, Earth and developer support to cars," Roger Lanctot, an associate research director at Strategy Analytics, told the E-Commerce Times — "just about anything users have on their phones, except for games."
Google's Plans for Android in Cars
Google is developing new Android platform features that will make automobiles connected Android devices. It is working with United States government agencies such as the National Highway Traffic Safety Administration to ensure the safety of drivers using Android features in their cars.
Apps and music will be among the features drivers will be able to access with the built-in controls and in-dash display in Android-enabled automobiles.
Nvidia's new Tegra K1 quad-core processor — announced Sunday — will be crucial to the integration of the Android platform in automobiles because it will provide enough processing power to let automakers and Google introduce new features as over-the-air updates gradually over several years, Praveen Chandrasekar, a research manager at Frost & Sullivan, told the E-Commerce Times.
"This could be the ideal win-win that automotive OEMs want — a platform that's upgradable, that will run for five to six years, and at the same time will let them introduce new features gradually as OTA updates so customers feel they're getting the latest and greatest features and are not stuck with an obsolete platform," Chandrasekar said.
Google's direct involvement means it "will create an updatable platform like it has for smartphones, which is the most important thing," Chandrasekar explained.
Automakers will also benefit because developing a new in-vehicle infotainment system takes three to four years and costs "at least $300 million"; using a standardized Android platform from the OAA "can cut costs by 50 percent or more," Chandrasekar said.
Neither Google nor the Open Automotive Alliance responded to our request for further details.
Keeping Drivers Safe
The fact that Google is working with OEMs "means they can now create an automotive platform that adheres to automotive safety standards because they can sit down with OEMs and decide what kind of content they will have, and what kind of driver distraction elements must be taken care of," Chandrasekar pointed out.
That is critical, because more than 3,300 people were killed in road accidents involving distracted drivers in 2012, according to Distraction.gov, while 421,000 people were injured.
Reaching for a phone, dialing and texting triple the risk of getting into an accident.
Security Issues
An automobile's in-vehicle Android infotainment system can be hacked if it's linked to the owner's smartphone.
However, automakers are working to protect against this problem, Strategy Analytics' Lanctot said.
While security is "still a question mark right now, I think Google will bring in some of its elements from the self-driving car research it's conducting," Chandrasekar said. "It's focusing heavily on cybersecurity there, and remember, Google will be working directly with OEMs who will tell it the level of security they need."
Further, standardizing the Android platform for automobiles may reduce the danger of hacks. Research shows that vendor customization of the Android user interface in smartphones is responsible for most of the security issues with the devices.
Members of the OAA are "not likely" to be allowed to tweak the Android UI, Lanctot suggested.
The one overriding security threat that no one may be able to resolve, however, is hacking by the U.S. National Security Agency, Lanctot suggested: "Can anyone stop the NSA?"