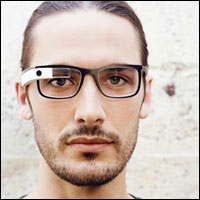 Here we go again. Most everyone who thought Google Glass crossed the privacy line was happy when it appeared the new technology was being shelved. Not so fast. Executive Chairman Eric Schmidt says Google is not giving up on Glass.
Like everyone else, I love new technology. However, sometimes companies and their tech staff cross over the line and don't see it the way the rest of the world sees it. They don't realize what they have done until public outcry clobbers them over the head, like with Google Glass.
Google Glass is a very advanced and incredibly interesting new idea. That's Google's perspective — and every tech watchers loves to see new thinking.
However, it walks all over personal privacy, and the fact that privacy could be a problem didn't seem to be part of Google's thinking during development. In fact, Google seemed to be stunned by the market pushback against the idea.
Privacy Out the Window
Would you have a private, very personal conversation with someone shouldering a live audio and video camera with the red light staring you in the face? You would know that everything you might say or do would be recorded and possibly broadcast to the world.
That's part of the magic that Google wants to bring to us with Glass — except that Glass is not as obvious as a camera on someone's shoulder. Why didn't Google see a problem with this? Sure, it's advanced and yes, it's cool, but it crosses privacy line, and that scares a lot of people.
If someone walked up to me wearing Google Glass, I would react the same way I would to someone shouldering a camera. I would politely leave without saying a word. Period.
Do people have to get hurt before we recognize the problem with this new technology?
I may be old-fashioned in some ways, but I am not comfortable giving up 100 percent of my personal privacy. Not in the least. I don't believe anyone is.
If users really understood the personal privacy risk, I believe Google Glass would have seen its last days already.
There are other problems with this technology as well. It could become a driving distraction, potentially causing accidents.
Early users of Google Glass were dubbed "Glassholes." Even so, Google remains interested in many forms of wearable computing devices.
Everyone Is at Risk
Does Google really understand the pushback from the marketplace? I'm not sure. Yes, users will love the new technology as long as it's at the experimental level — it's like the tech in a sci-fi movie.
However, when it hits the mainstream, people will think differently. It will become real. People will think not only about the advantages it brings, but also about the things it changes. Privacy is something that definitely will be changed — quite possibly, eliminated.
Just because a company can do something doesn't mean it should do something. Has Google ever thought about the dark side of what its new technology represents?
Maybe some won't mind losing their privacy. I don't understand that, but there are people who just don't care. If Glass impacted them alone, I'd say fine. However, if it's broadly adopted, it will affect everyone who ever comes into contact with someone wearing it.
Glass will make a comeback, unless Google wakes up. I can't see any way to solve the problems that plagued the original Glass. I don't know how Google plans to address the privacy concerns everyone seems to have. I don't know how Google plans to get police departments around the U.S. — and in fact, the world — to understand and allow it.
There is much I don't understand about Glass. Sure I still think the technology is big-time WOW. It looks great. However, I don't think there is a way to take out the sting out of losing personal privacy.
Or am I wrong?