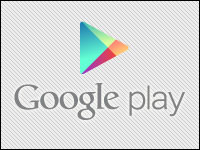 Google has revamped its Google Play Android app with designs on making it easier to use and better for discovering content. The search giant is also thinning its app catalog by removing what it considers to be low quality offerings.
In what has become the rage in digital design circles, text will take a back seat to images at the new Google Play. "The new design focuses on bigger images that jump off the page," Google Play group product manager Michael Siliski wrote in the company's official Android blog.
The revamped app, which runs on Android 2.2 and above, is designed to help users discover content in Google Play by continuously suggesting related material while scrolling down a page.
The color scheme of the app has also been modified. With its use of lighter colors, the look of the app has been brought in line with the color scheme of the Google Play online store while making the selections easier to read.
Better Checkout Experience
Checkout at the store has also been streamlined, as has the process for purchasing products within an app. Users can buy something without leaving the context of an app — the app remains active and visible behind the purchase dialogues.
"When the purchase is complete, users return directly to the place they left, without your app having to reconstruct its state," wrote Purnima Kochikar, Google's director of business development for games and applications, in the Android Developers blog.
Google Play's checkout process has always been easier to use than its major competitor, the iTunes Store, said ABI Researchmobile analyst Michael Morgan.
"In iOS, every time an app wants to update, you've got to put in your password," he told the E-Commerce Times.
That kind of security isn't demanded by Google, which makes its store more useable. "I'm willing to forgo that little extra security in favor of usability," Morgan added.
Improved Discovery
Checkout improvements are a common area for attention in a redesign, according to Rob Enderle, president and principal analyst with the Enderle Group.
"Improving checkout can reduce the number of people who exit during the checkout process," he told the E-Commerce Times.
Google's Kochikar maintained that the redesign will improve a developer's ability to be discovered in Google Play.
"Collections are front and center on the homepage, helping users discover great content through recommendations and curated lists," he wrote. "Items in collections are now presented as cards, with a larger area for your app's graphics and a larger touch target for users."
"Overall, the homepage surfaces more apps than before," Kochikar wrote, "and highlights them more effectively right on the page."
Drinking from a Firehose
Suggesting products to users, though, isn't the same as a user discovering something they can't quite put into search terms, noted ABI's Morgan.
"If you're looking for something and you don't know what it is and you don't know what to type in for search, you may not find it," he said. "Discoverability has always been an issue for all online stores. It can be like drinking from a firehose when you want to discover something."
While redesign of e-commerce apps are meant to fatten bottom lines, their value can be indeed mysterious. "It's hard to know what the magnitude of value in a redesign is," Yankee Group Research Director Carl Howe told the E-Commerce Times. "I imagine there is some value, but I've never seen any good quantification of it."
In addition to revamping its Google Play store app, Google has been weeding apps from the store. App deletions hit a record 60,000 in February alone, according to published reports.
Generally, Google Play has more free apps than competing stores, Howe explained. "Whenever you have lots of free apps, there's a temptation for people to throw up whatever will generate advertising clicks."
In addition, Google doesn't exercise any editorial control over app submissions, he added. "That tends to lead to low quality apps."