Google on Wednesday announced the addition of new functionality for its recently launched job search portal, including features that display salary range and street-level location information.
Salary information — among the things users have requested most, according to Google — will improve the likelihood of matching qualified applicants with the jobs they desire. The new tools will give job-posting sites that include estimated salary information increased brand awareness and increased referral traffic.
"Since introducing the product, one of the most requested data points for job listings is salary," said Google spokesperson Susan Cadrecha.
However, "by our estimates, this information is missing from over 85 percent of job postings in the U.S. today," she told the E-Commerce Times.
This information should help users save time during the search process and provide a more holistic view of a potential role, noted Google Product Manager Nick Zakrasek.
Companies can provide JobPosting structured data to have actual salary information displayed in search results, he noted. Alternatively, companies can provide Occupation structured data, which allows the display of estimated salary information from partners offering similar jobs.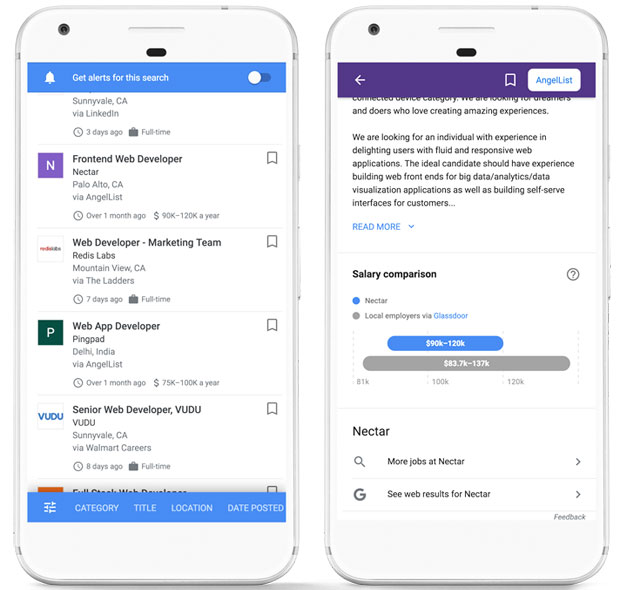 Bad News for Career Sites
Street-level location data helps job applicants narrow down openings to job offers that fit their needs. Location information can be added using the jobLocation property in JobPosting structured data, Zakrasek said.
Companies can also monitor the performance of their job listings using search analytics.
Since launching the job search program in June, Google has connected tens of millions of users to job listings, and has seen a 60 percent increase in the number of companies with jobs listed on Google, Zakrasek pointed out.
The company has been making a major push to expand the use of its machine learning capabilities to capture the growing use of online search engines and job sites to help job seekers find new positions — and also to help companies find qualified applicants.
It makes sense for Google to add functionality that will make the job search tool more helpful to users if it hopes to attract customers who otherwise might go to a dedicated career site, said Charles King, principal analyst at Pund-IT.
"Google isn't the only company aiming at this market," he told the E-Commerce Times, "and the new search tools are similar to features available on other work-related sites and services."
The salary data seems to come from sites like LinkedIn, Glassdoor and Payscale, which are competing with Google for clicks, remarked Kevin Krewell, principal analyst at Tirias Research.
"This is not good news for these sites, as Google is the first place people will search," he told the E-Commerce Times.
For deeper insight, users likely will need to consult other sites, but Google could impact their casual job hunting traffic.
Machine Learning Role
Google CEO Sundar Pichai this spring announced plans to launch the Google for Jobs platform as a way to utilize the company's industry-leading artificial intelligence and machine learning capabilities to capture much of that growing job search traffic.
The company launched its Google Jobs API in 2016, and began testing the technology with a number of firms, including Johnson& Johnson, FedEx, Health South and Career Builder.
Google this fall announced plans to launch a beta phase of its Cloud Job Discovery technology with support in more than 100 languages.
Hays, a professional recruiting firm, was able to use Cloud Job Discovery to help it place thousands of employees in jobs around the world, noted Tarquin Clark, group manager for Cloud Job Discovery.
Google also launched a pilot with iCIMS, a talent acquisition company, and the first ATS beta customer under the Cloud Job Discovery program.