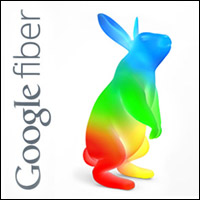 Alphabet has been facing significant roadblocks in expanding Google Fiber into new U.S. cities, in part due to significant competitive and legal challenges from incumbent broadband providers like AT&T and Comcast.
The companies currently are embroiled in a dispute over access to utility poles in Nashville, Tennessee, where Google claims that its competitors have been dragging their feet in making poles ready for Google's wires, even though the work has been approved.
Incumbent carriers have fought to block access to new entrants like Google Fiber, and local governments have tried to find solutions — like the One Touch Make Ready effort to get companies to share utility crews that would give broadband competitors equal access to attach their network equipment to telephone poles at the same time. The Nashville Metro Council is scheduled to vote on the proposed ordinance on Tuesday.
Talks recently broke down in Nashville after officials sat down with Google, Comcast, AT&T and others. AT&T has blamed Google for threatening to pack up and leave if it didn't get its own way in terms of local pole access.
"Unfortunately Google entered the meeting with no intent of negotiating," AT&T spokesperson Brett Levecchio told the E-Commerce Times. "We offered several solutions that would have addressed Google's concerns without government intervention, but Google refused to compromise."
AT&T, which offers fiber in 2.2 million locations within 29 metro areas in the U.S., plans to reach more than 14 million residential and commercial customers with fiber, Levecchio said.
Deep Cuts
While the wrangling wears on, Alphabet apparently has taken a hard look at Google Fiber's bottom line.
"If Google Fiber is not going to be building fiber networks in the next year or so, there are a lot of expensive people that the company will have to carry," broadband analyst Craig Settles told the E-Commerce Times.
Alphabet CEO Larry Page recently ordered Google Fiber to slash up to half of its workforce, in a bid to balance out the company's flagging subscriber figures, The Information reported. The news came just weeks after the company indicated it would shift to a wireless growth strategy to take advantage of its new Webpass broadband business.
Well short of its internal goals of 5 million subscribers, Google Fiber reportedly could see its workforce slashed in half to about 500 people nationwide, as it works to retool as a wireless broadband company.
Alphabet acquired wireless broadband provider Webpass earlier this year.
The layoff reports raise questions about how forthcoming Alphabet has been concerning the roadblocks it has encountered in its quest to grow the Google Fiber business.
"This is confusing, because we thought Google Fiber was doing so well," said telecom analyst Jeff Kagan.
"Apparently not. They recently announced they were moving from the wireline to the wireless business," he told the E-Commerce Times. "Now this."
Behind the Curtain
Google Fiber stormed out of the gate, bringing the promise of significant competition to underserved cities with ultra-high-speed Internet service at speeds of up to 1,000 Mbps. Google Fiber is much faster than traditional cable broadband.
Google Fiber currently operates in seven U.S. cities, including Kansas City, Missouri, where the company has its headquarters; Atlanta; Austin, Texas; Salt Lake City and Provo, Utah; Charlotte, North Carolina; and Nashville.
The company has announced plans to expand into numerous other cities — including Raleigh-Durham, North Carolina; Huntsville, Alabama; Dallas; and others.
Alphabet's Wireless Experiments
Meanwhile, Alphabet has been working on providing wireless high-speed Internet access to the home, company chairman Eric Schmidt said at the company's annual shareholders' meeting this spring.
Better computer chips and more accurate wireless signal targeting have made point-to-point wireless Internet connections cheaper than laying cables, he indicated.
The technology apparently is capable of delivering Internet connections at 1 Gbps — equal to Google Fiber's speed.
Google Fiber has been working on connecting wireless towers to existing fiber lines.
"One of our early forays in testing wireless technology is a 3.5 GHz trial in Kansas City," Google spokesperson Kelly Mason told the E-Commerce Times this spring.
Google consultant Robert Iystad earlier this year presented the Kansas City Council with a plan to run tests on wireless Internet access in the city.
The company sought to put antennae on city light poles and other structures in eight areas for a two-year test, providing the infrastructure at a discount. It was granted access to the light poles.
The Tech Stuff
There are three Google technologies involved, according to Sue Rudd, a research director at Strategy Analytics. One is Google Fiber. Another is millimeter wave point-to-point access to fiber, and the third is small local cell sites for use on premises.
"Millimeter wave spectrum is relatively unused. Even at 1 bit per Hz, you can get high speeds at high frequencies," Rudd told the E-Commerce Times. "Millimeter bandwidth comes in chunks greater than 5 GHz, such as 20 GHz, and high frequencies are infinitely reusable because they don't go so far."
Google's goal is to utilize underused high-frequency millimeter wave spectra to create a global access network linking point to point to the nearest fiber, she explained. Distance is not an issue.
Playing With Millimeter Wave Technology
Experiments with using millimeter wave technology for WiFi networks date back at least a couple of years.
The Defense Advanced Research Projects Agency in 2014 was converting old drones into millimeter wave WiFi hotspots.
Also in 2014, Google began testing a WiFi network that employed millimeter wave and other WiFi technologies.
Google has been testing solar-powered drones to deliver 5G Internet using millimeter wave technology, in its secretive Project Skybender, at Spaceport America.
Starry early this year announced it was working on a millimeter wave WiFi network to be rolled out in beta in Boston this summer. Rollout dates for 14 other U.S. cities that are part of a 24-month pilot program — including San Francisco, New York and Washington, D.C. — have yet to be announced.
Facebook this spring announced new terrestrial connectivity systems that leverage millimeter wave WiFi, and said it planned to test the system in San Jose this year.
"We think it's great that others are exploring new and innovative ways to bring connectivity to more people," Starry spokesperson Virginia Abrams told the E-Commerce Times this spring. "Our beta will launch as planned late this summer in the Boston area."
Why the Rush to High-Bandwidth WiFi?
"Eric Schmidt's … comments are just describing a way to solve the classic last-mile problem for fiber termination," Strategy Analytics' Rudd noted in an earlier interview. "This is a very well-known problem that now has multiple wireless point-to-point and even multi-point options many operators and enterprise vendors are looking at."
Possible vendors include premises, cell termination and even campus DAS interconnect players, such as Blinq, Bridgewave, Cambium Networks, Ericsson and NEC, she said.
"The federal government is giving out grants to companies to provide WiFi service in rural areas," observed Jim McGregor, principal analyst at Tirias Research, in an earlier interview. "Some local providers are also encouraging this in areas where they aren't providing service."
The allure of WiFi Internet is increasing, because "some cities are getting fed up with companies tearing up their streets to lay cable," McGregor told the E-Commerce Times.
The result is, "it's the wild, wild west out there, and everyone's trying to get into providing WiFi service," he said. "I'm looking into it myself."