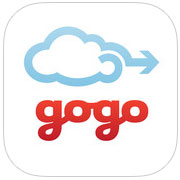 Why is it that in-flight WiFi is almost always problematic? Every time I take a commercial flight, I sign up for the GoGo WiFi service — and every time I am disappointed by something. My experience last week flying on Delta was no exception.
After takeoff, I struggled to connect my iPhone. After spending quite a long time making unsuccessful attempts, I gave up in frustration. I pulled out my MacBook and was able to connect. I did it! Or so I thought.
First things first. I connected with my wife using text messaging. That worked. Something just feels good about connecting with the one you love when you are up in the sky, a million miles away. I had no phone service, but at least I was in touch through text. Then I went to work — and suddenly hit a brick wall again.
Stuck in the Cloud
I was able to both text and surf the Web — slowly, but it was doable. However, I couldn't access email. I wanted to catch up with the new messages I'd received during the last couple of hours, so, I hit Get Mail, waited and hoped. After roughly 30 minutes, I was still sitting there, waiting and hoping.
A handful downloaded, but most of my unread messages were stuck in the cloud. As I stared idly out the window, I thought, hey, there it is — the cloud. It was big and white and fluffy. What a pretty cloud. For all the good it was doing me, my emails might as well have been floating around out there.
I snapped out of it and took another look at my email download status — still stuck. I shut down the email and reopened it several times, hoping for the best. When my MacBook email application freezes on the ground, that always works. It never works up in the air, though.
Next I completely shut down and restarted my MacBook. Once again I hit Get Mail. Click. I waited… and waited… and waited. I was still having the same d— problem. It was so frustrating. The kind Delta flight attendant brought me another cup of Starbucks, which usually helps — but not so much that time.
Who's to Blame?
Who was to blame? GoGo, Delta or me? The flight was perfect, except for the WiFi. The unreliable service may or may not have been Delta's fault, but its reputation took a hit with me anyway.
I could better understand the problem when in-flight WiFi was in its infancy. It was new. Companies like GoGo had to work the kinks out. Well, it's been years — and the kinks are still there, center stage!
I struggled to get a reliable connection for two hours — until the pilot announced we were making our approach. OK, it was time to put away all our tech gadgets! Sure. Pack it away. All I had done was struggle to connect.
Today we use wireless everywhere. That means we must be connected everywhere. With each year that passes, connectivity should get easier. I want to love GoGo's in-flight WiFi service, but there are still too many problems. I hope someday it will get better and stronger.
GoGo Is a Crapshoot
GoGo did let me connect to my sweetie and surf the Web. However, I had wanted to attend to my many unread emails, and I couldn't access them. I thought ahead — would GoGo work better on my return flight? I could only hope and pray. Is that really how GoGo wants customers to view its brand? Just hoping to get lucky?
As it happened, on my return flight GoGo worked just fine on my iPhone. Imagine that. I was happy I was able to connect for that leg of the trip. It was better than nothing, but GoGo should offer customers more than a slim hope.