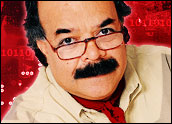 The millennium celebrations are long gone, the global Y2K scam has been forgiven and forgotten, the public psyche is in sync with media, and all appears to be going forward normally.
Though the masses are oblivious to it, a new storm is clearly visible to global circumnavigators, though. It is kicking up dust but soon will cut a clear path. Here it comes.
Global Re-Immigration
After almost half a century, people are on the move again, relocating and reestablishing in their countries of origin, returning for good from their adopted Western homes to locales in Asia, Africa and other far-removed regions.
As discussed in my 1996 book, Sunrise, Day One Year 2000 (Linkbridge Publishing), re-immigration post-2000 will affect all of us. Currently, the prime reasons for the phenomenon are that there are far more opportunities mushrooming in immigrants' countries of origin.
In addition, the quality of life can be far better and more economical than in their adopted lands. The immigrants originally came expressly for a higher quality of life. During the large-scale population movements of World War II and its aftermath, many dreamed of going to the West, which was viewed as a paradise.
However, Western societies certainly do not offer all that quality and freedom with unlimited opportunities for growth. At least, not any longer.
There is little expansion or innovation in the G8, as most of those nations are tangling with their own serious problems.
In the U.S. alone, Republicans and Democrats are not just opposing parties; rather, they are arch enemies creating a stagnant society that would have been hard to imagine decades ago.
Then there are the more recent controversies over racial profiling and consequent harassment all over the West, with individuals of many different colors and cultures targeted — or feeling that they are. This has fueled the mega re-immigration movement further.
Some individuals and groups have been fomenting a clash of civilizations that has contributed big to this now unstoppable movement. Children worry about their aging parents being embarrassed and humiliated, while parents worry about the future of their young children.
The grassroots-level ethnic diversity that populated back offices with many colors, languages and accents is gradually vanishing. There is already a shortage of highly qualified technical workers all over the Western world. Immigrants knew when to move in, and now they sense it's time to get out.
Studies are showing a decline in population in the West, and, for the first time, there are clear indicators that American youth will be looking toward Asia for greater opportunities. This mega shift has major implications for all of us.
Global Image Repositioning
Shifting perceptions en masse requires a mega shift in understanding available options. The world's newest shopping malls are rising in the East — by the thousands, grand and luxurious. India alone has a middle class larger then the entire population of the U.S.
The land of fakirs and snake charmers is being swept into nouveau-consumerism, with hungry consumers ready to devour anything that shines. Hollywood is simply old and tired, while the Bollywood frenzy has sprouted a $4 billion industry.
Paris is pass, as there are some 100 new fashion centers — mostly in Asia. Is this a mega shift or what?
The sunshine days for Eastern icons are here. Corporate images and brand name identities that were based exclusively on Western standards are now morphing in a big way to accommodate Eastern sensibilities.
Studies have clearly shown Asia to be the driving force behind branding goods in regions as far away as Europe and the U.S. Obviously, wealth and population growth factors are far stronger in the East than in the west.
The movement toward creating local Asian brands is picking up heat. The tools of the trade — the latest software programs capable of producing spinning colors and dazzling graphics — are dwarfing any top agency in Manhattan or Soho, attracting smart local innovators daily.
Dubai is a fine example what a single city can do in less then 10 years. Today in the Middle East, India and China, there are some 100 cities poised to embrace the Dubai model — and each one of those cities has all the necessary components to make it happen.
During the urbanization of the U.S. after WWII, hundreds of cities simultaneously sprouted throughout the landscape. That's what's in the making in today's East. India proved the outsourcing model, China became the world's largest factory — with factories making factories — and the Middle East is on its way to becoming the luxury center of the world, providing new standards and new benchmarks for modern living.
All of these trends combined are impelling a new mental shift in image-making and branding. The new mindset is rapidly transforming old perceptions of coolies, snake charmers and camel drivers into ultra-modern trendsetters yet to appear in the West.
Global Reacceleration
Brands like Coke, Disney and Benz developed on a century time line. Now, in Asia, a comparable impact can be achieved in a fraction of that time, for a fraction of the costs, and it will produce a bang many times bigger.
With the emergence of a technologically driven society, Asia has gone from a land of virtually no phones to one with 2 billion cell phones, and from Internet darkness to 24×7 e-commerce.
Once the sidekicks of the West, Asian countries are now the global economy's driving engines. This rapid-fire transition itself is a new force to be reckoned with — an uncontrollable migration as people gravitate to innovative ideas and take bold risks to deliver on them.
Technological developments that took decades in the West — like the evolution of mainframe computers into desktops, or the downsizing of cell phones from luggage-size to palm-size — spawned an ever-faster trend toward micro-miniaturization with accompanying premium prices.
Today's corporate society is characterized by compulsive innovation — the drive to continuously create tinier things at higher prices for deeper pockets. This frenzied acceleration ultimately will trigger a revolution when a billion-plus entrepreneurial cyberwarriors hit the roads.
Global Rehousing
There is an extraordinary real estate boom all over Asia, from major cities to unheard of villages. Prices basically are doubling and redoubling, and no one has any idea when this will stop. Highly experienced and qualified people began returning home with liquid assets and innovative business ideas, and voila, the real estate market started sizzling.
The development of some 1 million new apartments in Dubai and UAE alone points to the global desire to explore these areas as long-term places to live a better life. The machine has been turned on, and the wheels have started to grind. This region already has billions to manage, and now millions more are coming with cash and ideas, and the need for rehousing in the East.
Modernization means that the new and improved infrastructures will be built with the most advanced technology to handle the heavy loads.
Where will one find the world's biggest, tallest, most-advanced structures? All over Asia. With some 100 monumental structures underway, it is only a matter of time before Asia will be recognized by most Westerners as where the newest structural wonders can be found.
Summing It Up
Depending where one is and where one is going, the biggest winners are likely to be the youth of Asia. They will have the most extraordinary set of options, with variety that is unmatched in any other region of the world ever.
The biggest losers, though, will continue to be the poor in this vast and complex part of the world. Those who fall into the chasms created by a dynamically shifting society still have little hope.
Still, some of the poor are inching closer to having their basic needs met. There is a strong possibility that these new global trends could enable some to move from poverty to an ever-larger middle class, and that Eastern countries may adopt some minimum standards to build good safety networks, similar to those that exist in the West.
The East has not addressed basic poverty issues as Western societies have done, and that is perhaps the biggest contribution of the West to a global civilization.
For now, though, the major movement of people and forces for change seems Eastern bound.
---
Naseem Javed
is recognized as a world authority on Corporate Image and Global Cyber-Branding. Author of
Naming for Power
, he introduced The Laws of Corporate Naming in the 80s and also foundedABC Namebank, a consultancy established in New York and Toronto a quarter century ago. Currently, he is on a lecture tour in Asia and can be reached at
[email protected]
.
---