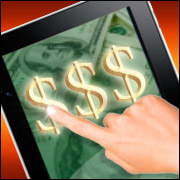 Tablet sales will show dramatically slower growth this year, according to IDC's Q2 worldwide quarterly tablet tracker.
Worldwide tablet sales grew 11 percent year over year in Q2, with shipments totaling 49.3 million units.
While sales will continue to grow, they will do so more slowly than in 2013, when they grew by 51.6 percent, according to IDC.
The culprits continue to be growing demand for phablets and increasingly long ownership cycles.
"Consumers keep their tablets between three and four years," Jean Philippe Bouchard, a research director at IDC, told the E-Commerce Times.
Another factor is relatively low enterprise demand for tablets.
"Commercial demand is still new," Bouchard pointed out.
That will pick up in the second half, when more enterprise-specific offerings — such as those that will result from the recent teamup of Apple and IBM — come to market, IDC predicted.
Meanwhile, a host of local makers are offering low-cost phablets in developing markets, and PC and smartphone vendors are fueling competition by coming out with their own devices, IDC said.
Dynamite Comes in Small Packages
Phablets — smartphones with screens measuring 5-7 inches — have been gnawing into the demand for tablets since last year, even though that was a banner year for tablet sales.
Shipments of phablets outstripped those of tablets and portable PCs in Asia in Q2, 2013, IDC found. Device vendors shipped 25.2 million phablets in Q2 2013, twice the 12.6 million tablets and 12.7 million portable PCs that shipped.
Phablet demand will continue to cannibalize sales, IDC predicted.
Phablet prices "have declined rapidly, and [they] offer the most bang for your buck," IDC analyst Jitesh Ubrani told the E-Commerce Times.
As if the growth in phablet demand weren't enough, tablet makers now have to contend with the specter of the iPhone 6.
It will impact iPad sales, Bouchard said, but Apple actually may benefit, because the iPhone brings higher revenue.
Love Me, Love My Tablet
"Until tablet vendors find a feature to market that makes end users perceive their current tablet as inadequate and [persuades] non-users to buy tablets for the first time, people will hold on to their tablets," Bouchard suggested.
"The limitations of the tablet are creating a longer use cycle," Rob Enderle, principal analyst at the Enderle Group, told the E-Commerce Times. "It seems to be increasingly purchased like an appliance — meaning you only need a new one when the old one breaks."
Also, consumers "are increasingly finding that laptops and phablets are actually a better solution for their specific needs than a tablet is," Enderle opined.
Gunning for the Enterprise
Tablets by and large have been regarded as content consumption devices rather than productivity tools, but IDC is looking to enterprise adoption of tablets to help drive demand.
"BYOD will play an important role in tablet adoption," IDC's Bouchard suggested. In fact, C-level executives who wanted to use their iPads at work opened the door for the adoption of tablets in the enterprise.
The Apple-IBM teamup "will . . . create use cases and specific industry vertical solutions that will make the decision to deploy tablets a lot easier to make for IT departments," Bouchard suggested.
On the other hand, "I don't see a great deal of support in the market for [the belief that enterprises will drive tablet demand] and expect this argument is being made because projections were aggressive and appear to be well ahead of actual sales," Enderle said.
Enterprises "appear to be funding a PC refresh cycle instead of a tablet cycle," he commented.
Windows Tablets in the Enterprise
Microsoft could benefit, because it "is about productivity right now," Bouchard said.
Its plan to offer one OS for all screen sizes also "would be beneficial . . . as it makes the [Microsoft] platform more appealing to developers," he noted.
However, pricing might be a problem, Bouchard pointed out, because "the component costs for Windows devices still tend to be higher than Android."