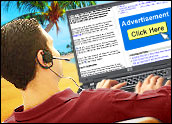 When the first banner ads came out in the 1990s, they attracted lots of attention — and lots of click-throughs.
Since then, though, their effectiveness has plummeted, forcing businesses to think creatively about the future of online advertising. This future is likely to include a mix of social media influencing, content marketing, and in-depth storytelling.
"People are just not looking at banner ads," Francisco Diaz-Mitoma, CEO and cofounder of Virurl, told the E-Commerce Times. "Storytelling is the next paradigm of advertising."
Content Seeding
Virurl aims to launch the viral spread of content through highly targeted links on blogs, social media pages, and other sites.
"Our mission is to better distribute content on the Internet," explained Diaz-Mitoma. "As long as the advertiser has created a piece of content that is engaging, that's the kind of content we use on our system. It can't be a regular ad."
Engaging content, in other words, trumps traditional ads — and companies like Virurl are stepping in to help businesses get this engaging content seen.
"Over the next few years we're going to see advertisers creating an unprecedented amount of content, and it's going to need a platform," said Diaz-Mitoma. "Our company is developing the tools and technologies to support the shift from traditional banner ads to content-based marketing."
Zeroing In
Social media sites offer advertisers an unprecedented ability to design targeted campaigns designed for specific audiences, and each social media site has its own unique advertising opportunities. Businesses on LinkedIn, for instance, can buy display ads, recommendation ads, sponsorships, and partner messages — all of them targeted to specific professional demographics.
"LinkedIn enables marketers to drive results by nurturing meaningful relationships with its members," Fenot Tekle, senior manager of corporate communications at LinkedIn, told the E-Commerce Times. "It's the only place on the Web where marketers can engage such high-quality audiences, with relevant content, in the appropriate context."
Facebook, too, is a treasure trove of demographic data, all of which is available for advertisers seeking to get their message to just the right people. In addition to standard display ads, Facebook offers a range of advertising opportunities, including social ads that show up in users' news feeds.
"With the ads on the side you can have 'banner blindness,'" Fredrik Skantze, CEO of Qwaya, told the E-Commerce Times. "News feed ads are effective because they're in the stream of the reader. They're reading the news feed, and these ads are in the stream of the news feed. They just happen to be a brand."
Facebook also offers advertisers the opportunity to market apps through its mobile site and to target ads to its existing customer base. Its ad offerings are likely to increase, building on the rich data it's continually collecting about its millions of users. Those users spend a significant amount of time engaging with the site and the ads on it.
"Brands want to be where consumers are, and consumers spend a lot of time on Facebook," said Skantze.
Pulling It All Together
One challenge of online advertising is maintaining a distinctive brand and voice across multiple platforms — and keeping the content on all those different platforms current. Advertisers, therefore, must be adept at handling complicated campaigns and creating interesting content.
"To be effective, an ad has to reach the target audience with the right message," Kim Troy, cofounder of PR Brigade, told the E-Commerce Times. "The advertiser must have a deep understanding of who they are trying to reach, and the advertiser must say exactly what that particular audiences wants or expects to hear."
The unique features of social media have, in fact, fundamentally altered the practice of advertising.
"Social media has forever changed the marketing and advertising landscape," said Troy. "Pre-social media, marketing and advertising were broadcast-oriented — a one-way conversation from business to consumer. Post-social media, marketing and advertising are matrix-oriented — dynamic, multi-directional, ongoing conversations among consumers about the business."
Companies, therefore, must design creative and flexible campaigns that can adapt to a constantly-evolving media landscape.
"Every company, no matter its size or industry, must now be a nimble, around-the-clock marketing entity just to survive," said Troy. "Marketing one's business on social channels requires a lot of oversight and a lot of relevant, compelling, engaging, valuable, on-brand content that's not blatantly self-promoting. That's very tricky, and very different than in the old days, where you simply declared yourself the best, and your customers, for the most part, believed what you told them."