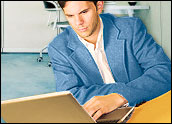 Today's consumer is smarter than yesterday's consumer, and with the technology available to make educated purchasing decisions efficiently and quickly, Web-savvy buyers are making the most of the tools they have at their disposal. Online reviews are permeating the Web in all shapes and sizes, from reviews of a local pizza shop to posted commentary on a new piece of software. Consumer-generated content is the new word-of-mouth advertising, and its increase in popularity is attributable to the simplicity with which reviews can be posted on virtually anything.
In today's connected world, business hours don't exist, and consumers seem to have less free time. Maximizing the time they do have is important, and more consumers are looking to the Web to find that trusted merchant for that item or service.
However, risks can be associated with this new dynamic in purchasing behavior for the consumer and the merchant. For merchants, when a qualified consumer is looking for the best and most trusted vendor of a particular product, reviews can be skewed. The very nature of consumer-generated content on the Web suggests that in some circumstances, unknowing merchants are at an enormous disadvantage.
For consumers, non-authentic reviews can be misleading. Consumers can be swayed by an overwhelmingly positive review and select a merchant based on that alone, potentially overlooking a trusted, reputable merchant.
Managing Purchases and Reputation
While educated consumers often are cautious about where and how they make purchases online, most consumers simply don't know which merchants are the most trustworthy. This can represent an incredibly dangerous situation, where the consumer can put him or herself at risk for shady merchants to take orders without the intent to fill them. Additionally, there are untrustworthy merchants who set up shop specifically to steal from novice consumers who freely offer their personal and credit card information, thinking they are making a simple purchase. Much of today's cybercrime is directly attributable to the uninformed consumer.
However, an informed and experienced online consumer knows where and when to make purchases on the Web. Experience can mean everything from regularly making purchases on a certain site to paying bills online regularly. It's important for consumers to know where and when to provide personal information while making any purchase online, and consumers can make those determinations through online reviews. Consumers who post online reviews are often helping other consumers find reputable merchants.
For merchants, understanding today's consumer means knowing consumer behavior and knowing where consumer-generated content is posted, relevant to their business. Smart merchants know that it's essential to comprehend the increasing number of sites that feature reviews and the power they have within the business community. When reputable merchants are actively involved in the world of online reviews, they are typically much more successful than those who aren't paying attention. Those who are paying attention most likely will have embarked on a reputation management program, where they are proactively managing reviews with their customers.
The world of reviews can impact merchants in any number of ways. Any person — a competitor, a highly emotional (and perhaps irrational) customer, or even someone who has never done business with the merchant — can post a review, whether it's authentic or completely inaccurate, and this can sink a small business. Conversely, a merchant who understands the value of consumer-generated content and decides to take proactive measures through an effective reputation management program can manage content.
This is perhaps the easiest way for the merchant to not only have a say in what's being posted online but also attempt to resolve any real gripes that might be posted elsewhere. Effective reputation management platforms typically consist of an easy and automated way to collect, manage and promote authentic customer reviews on their sites.
Best Practices for Managing Your Online Reputation
Today's Web-savvy consumers are looking for a few key features before they buy online that merchants should employ, such as the following:
Site Security and Privacy

The Web can be an enormous maze to navigate for online purchasers. Security typically plays a major role in consumer and merchant confidence. In fact, a recent Pew Internet & American Life Project study reported that 75 percent of participants do not like sending personal or credit card information over the Internet. Despite this fear, almost 70 percent of the respondents feel that shopping online saves time, and almost 80 percent feel it is convenient, the report also states.

Secure sites should have trust seals like VeriSign, or McAfee, which ensure that a Web site is safe and that a consumer's personal information will be protected. It's not just the seal or the logo that represents this level of trust; it's the authentication or validation technology behind it. Only a handful of companies can truly secure an online transaction or verify that a Web site employs safe practices.

Customer Reviews and Feedback

Consumers look for online reviews and feedback of businesses. They share experiences and opinions about businesses across the Web, and more than 80 percent of those who read reviews said that their purchasing decisions have been directly influenced by those reviews, according to Deloitte & Touche.

Consumer-generated reviews, especially if authenticated (i.e. via e-mail or other authentication techniques) and validated by a third party, are a powerful tool and can provide valuable insight into a merchant or product. Consumers look for online reviews and ratings about brick-and-mortar businesses, as well.

On the flip side, always highlight to visitors that you're open to customer feedback, by making it easy for consumers to actually give you feedback, and by being proactive by asking for it at every relevant opportunity — for example on checkout pages, outbound e-mails and other customer communications.

Policies and Contact Information

There's nothing worse than being promised a gift to arrive by a certain date and then not getting it in time or simply not getting the product ordered. Shoppers can determine the quality of a business by the way it handles any customer complaints or disputes.

A reputable business should display contact information clearly, including a physical address and phone number; have strong return and refund policies; and provide a mechanism to collect feedback and resolve any disputes that may arise. Additionally, bonded merchants guarantee purchases with a bond from a trusted third party.
Consumers don't always arrive at a retailer's site directly or with previous knowledge of the site. By providing security information, online reviews and displaying clear policies, consumers will have a better handle on the business itself, feel more confident, and can make more informed shopping decisions.
---
Neal Creighton
is CEO of
RatePoint
, which helps businesses connect with customers and manage their online reputations.
---