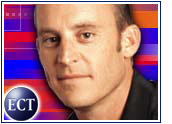 Taking what some observers see as another step into the much-predicted "post-PC world," Gateway (NYSE: GTW) and America Online (NYSE: AOL) announced plans Tuesday for a new "Internet appliance" that uses neither an Intel microprocessor nor Microsoft software.
The new device bypasses the two industry giants and will use a processor from Transmeta Corp., a long-time Microsoft nemesis that specializes in low-power, inexpensive chips. It will also use a version of the open-source Linux operating system and is expected to cost around $500 (US$) when it officially goes on sale later this year.
The appliance is designed to sit on a kitchen counter or desk and could eventually be carried around the home as a wireless device with a constant connection to the Internet.
'Wintel Duopoly'
Gateway, the second-largest direct computer seller in the U.S., said it picked the Transmeta "Crusoe" chip because of its longer battery life, smaller size and lower operating temperatures.
Gateway and AOL — both investors in Transmeta — called the selection a break from the "Wintel duopoly," a reference to Intel's dominant position in the microprocessor industry and Microsoft's Windows operating system, used on the vast majority of the world's personal computers.
Many analysts believe the personal computer will soon be replaced by smaller and cheaper devices that can provide instant and constant access to the Internet, such as mobile phones and personal digital assistants.
"The truth is that the phrase 'Internet appliance' has become a code word in the industry meaning no Windows," Transmeta founder David Ditzel told the New York Times.
Bumping Heads with Microsoft
The companies involved in developing the new Internet device have histories of bumping heads with Microsoft and Intel.
Ditzel is a former Sun Microsystems hardware designer, and Transmeta was started with the financial backing of Microsoft co-founder Paul Allen, among others.
Transmeta spent most of its life as a secret design lab, but announced in January that it had come up with a chip that used less power, and was therefore cheaper, than Intel's processor. Last month, Transmeta said it had raised an additional $88 million from Gateway, Compaq, Samsung, Sony and a group of Taiwanese manufacturers.
The Silicon Valley company made big news early in its inception when it announced the hiring of Linus Torvalds, the inventor of Linux. At a Tuesday press conference, Ditzel said it was Torvalds who modified the Linux program so that it could run without a hard disk, enabling inexpensive appliances to use it.
Key Witness Against Microsoft
A Gateway executive was a key witness in the Microsoft antitrust trial. James Von Holle told the court of pressure he received from the software giant when Gateway installed a competing browser and placed the AOL icon on the desktops of its computers.
Gateway has also said that it would buy more chips from Intel rival Advanced Micro Devices (AMD). The semiconductor industry is only recently recovering from a downward financial spiral and analysts say they expect a boom in 2000 and 2001.
Intel admitted earlier this month it was having trouble meeting demand and said it was infusing its microprocessor production plant in New Mexico with a $2 billion boost to help production.