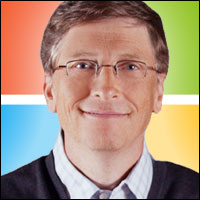 Running a US$300 billion company is challenging for anyone, but it can be even more challenging when you have a tech titan looking over your shoulder.
That's the situation facing new CEO Satya Nadella, because just as he assumes Microsoft's helm, Bill Gates has decided to take on a new role in the affairs of the company he founded.
In a video released by Microsoft, Gates said that Nadella asked the founder to assume a new role with the company.
"I'm thrilled that Satya has asked me to step up, substantially increasing the time I spend at the company," he explained.
"I'll have a third of my time available to meet with product groups, and it will be fun to define this next round of products working together," Gates continued.
"There's a lot of opportunity in front of us," he added, "and it's exciting that we have a strong leader to take us there."
Mr. Inspiration
Gates is assuming his new role as technology advisor at Microsoft after resigning his seat as chairman of the company. Much of his time in recent years has been spent working at the Bill and Melinda Gates Foundation, which is committed to education, health and reducing global poverty.
Seeing Gates' face more often at Microsoft could have an uplifting effect on employee morale.
"Microsoft's biggest challenge right now is how to get all its human capital moving," said Jonathan H. Hill, an associate dean at Pace University's Seidenberg School of Computer Science and Information Systems.
"Microsoft still has thousands of really talented people working there," he told the E-Commerce Times. "How do you get those folks re-energized and remotivated?"
The answer to that question is Bill Gates.
"He is going to serve as chief inspiration maker and rainmaker. He's a guy who can get a meeting with anybody in the world," Hill said.
"There's still magic around that name," he added, "and having him present is going to be inspirational to the employees, and it's going to get the attention of the investor class, who have been so negative about the company in recent quarters."
Freeing Nadella's Hands
The timing of Gates' return to Microsoft has raised questions as to whether the company was hedging its bets over its new leader's ability to lead.
That's not the case, maintained Yan Anthea Zhang, professor of strategic management at Rice University.
"It's an endorsement of the new CEO," she told the E-Commerce Times.
Nadella faces some major challenges as he steps into office. He must grapple with business decisions and strategies put into place by his predecessor Steve Ballmer, and he lacks the experience of managing a company the size of Microsoft, she explained.
"With Gates as a mentor to the new CEO, it will increase the freedom, increase the power of the new CEO to make changes — to deviate from Ballmer's strategies," Zhang said. "Gates will be a mentor, an advisor, a supporter to the new CEO."
Bold Moves Needed
While it's unknown how the Gates-Nadella relationship will work out, it's certain Gates did not make the move without forethought.
"If you know Bill Gates, he thinks about everything," said Laura DiDio, principal analyst with ITIC. "This was not an impulse move."
In some respects, Gates' return to Microsoft can be compared to another high-tech second coming.
"This can be compared to Steve Jobs coming back to Apple when Apple was at a low ebb," Didio told the E-Commerce Times.
Although Microsoft is nowhere near the basket case Apple was when Jobs returned, it is widely believed it was left at the dock when the boat sailed on such emerging technologies as Internet search, mobile phones and tablets.
"There will be a lot of pressure on Nadella to make some bold moves in the first three to six months," Didio said. "This is a fast-paced industry, and the perception is that Microsoft has been getting left behind in emerging markets and key growth areas."
How will Gates' presence influence those bold decisions?
"Will Bill Gates be looking over Nadella's shoulder, or will he be advising beside him?" Didio wondered. "That's a big question mark, and nobody is going to know how it plays out until it actually unfolds in real time."