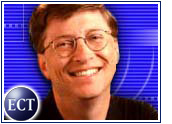 Beset with legal and morale problems at home, Microsoft co-founder Bill Gates laid out his vision for the company on the other side of the world on Tuesday, a vision that — with its emphasis on the personal computer — bucks conventional high-tech wisdom.
Gates told a technology conference in Taiwan that computing in the future will continue to revolve around the personal computer, although in an entirely different way. The future PC, Gates said, will be a much smaller and more powerful machine that harnesses a select handful of mobile appliances allowing constant Internet access.
"The PC experience will take all things that people thought about as being on appliances and make them far more available on the most general purpose, rich device," Gates said at the World Congress on Information Technology. "All of the advanced equipment that connects us to the Internet will follow the rules of the PC."
Shoot the Moon
The view is at odds with the widely accepted notion of a post-PC world in which a dazzling array of handheld, mobile Internet devices such as cellular phones, digital assistants and set-top boxes will render the PC as obsolete as a manual typewriter.
Gates said the various information devices will be linked to the PC by Microsoft's Next Generation Windows Services (NGWS), an operating system designed to automatically synchronize and update the constant flow of information.
"We will spend more than three times what it cost to put a man on the moon," he said.
No Respect for Court Order
Meanwhile, Microsoft's legal team is locked in maneuvers against the Department of Justice over the timing of the company's appeal of last week's order to break the company in two.
U.S. District Judge Thomas Penfield Jackson said the breakup of the company could be stayed until after the appeal runs its course, but the restrictions he imposed on Microsoft's business practices are to take effect within 90 days.
Referring to the appeal process, which he estimated would take a year, Gates told Reuters, "Between now and then it doesn't change anything we're doing as a company."
Brain Drain
On Monday, Microsoft confirmed that vice president Tod Nielsen is leaving the company to pursue other interests. Nielsen was seen as an effective lobbyist within the software development community, which Microsoft is battling to keep faithful in light of the court ruling.
Chief financial officer Greg Maffei left the company in December, and it is being reported that three executives — chief technical officer Nathan Myhrvold, Internet executive Pete Higgins and former senior vice president for applications Brad Silverberg — have not returned following long leaves.