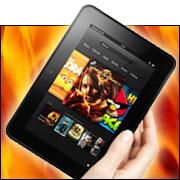 The United States Federal Trade Commission has filed suit against Amazon over billing kids for unauthorized in-app purchases that in many cases they did not know they had made.
The suit, filed in the U.S. District Court in the Western District of Washington, accuses Amazon of violating Section 5(a) of the FTC Act, which prohibits unfair or deceptive acts or practices in or affecting commerce.
The FTC is seeking a court order requiring Amazon to refund victims for the unauthorized charges, and permanently banning it from billing parents and other account holders for in-app charges without their consent.
"The complaint filed today notes that Amazon was aware that there were problems with their in-app charges, through a high number of consumer complaints, media reporting about the issue, and even internal emails that indicate employees referred to the issue as 'house on fire,'" FTC spokesperson Jay Mayfield told the E-Commerce Times.
The FTC's Allegations
Amazon's setup let children playing kids' games spend unlimited amounts of money to pay for virtual items within the apps without parental involvement, the commission charges.
Amazon did not impose password requirements of any kind on in-app charges, including those in kids' games and other apps that appealed to children when it introduced them to its Appstore in November 2011, the FTC said.
Kids' games often encourage children to acquire virtual items in ways that blur the distinctions between those that were purchased with virtual currency and those for which real money was needed, such as using strongly similar screens for both.
The FTC claims to have received thousands of complaints from parents.
Suicidal Tactic
"It's really bad for the consumer," Rob Enderle, principal analyst at the Enderle Group, told the E-Commerce Times. "I was testing it myself and you can get up to (US)$200 in expenditures for a game that would typically cost $15 to $18."
Amazon is "really screwing the customer, and when people think they're being ripped off, you'll lose customers to someone else," he remarked. The act "is financially viable, but strategically it's suicidal."
Further, Amazon might "get the reputation of taking advantage of kids," Enderle suggested. "You just don't abuse kids; mining them does nothing for your image and for your brand, and it's not the right thing to do."
Amazon's actions are similar to those of Apple, which was sued by the FTC after being inundated with consumer complaints.
Apple settled the case in January by agreeing to pay at least $32.5 million in refunds to victims.
Amazon Fights Back
The FTC reportedly approached Amazon after the settlement, drawing parallels to the Apple case and suggesting it settle consumer complaints with a consent order along the lines of the one Apple had agreed to, or face a similar lawsuit.
Amazon refused, pointing out in a letter dated July 1 that it had refunded purchases when customers had complained.
"We have consistently improved the customer experience in response to data," Amazon maintained, which resulted in an experience that "already meets the requirements of the Apple consent order," as well as "industry-leading" parental controls like Kindle Free Time.
Amazon vowed to fight the lawsuit.
Google Fingered
While working out a settlement with the FTC, Apple reportedly complained to the commission that Google was engaging in similar practices.
Apple "was particularly upset at being called out when there was a bigger problem with Android," Enderle said.
The FTC's Mayfield declined to comment on that, because the commission's investigations are not public.
The Amazon case, "like the complaint we brought against T-Mobile last week and the Apple case earlier this year, was about a fundamental tenet of consumer protection, namely that consumers must give their consent before being billed for a charge," Mayfield said.
The FTC has charged T-Mobile with cramming — imposing bogus charges.