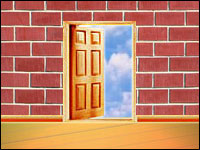 Communications as a Service. Cloud communications. Hosted PBX. You've heard the terms, and you've witnessed the hype. But what are these technologies? And what will they do for your business?
Generally, a CaaS solution involves your business utilizing the resources, equipment and software of a service provider in its network or data center, as opposed to housing equipment, such as a phone system, at your location.
These services can be accessed by your business over the Internet or via a private connection to the service provider. CaaS solutions generally include all of the features of an on-site phone system, along with local and long distance calling. They also often include telephone handsets and connectivity to the service provider and/or the Internet.
CaaS solutions are purchased like power, traditional and cellular telephones, and cable or satellite TV — on a per month, (largely) per user basis.
One in five enterprise firms already use managed services for their network and telecommunications needs. In fact, hosted Voice over IP (VoIP) is anticipated to be a US$14.6 billion market in the United States by 2012, with the majority of that revenue coming from companies with fewer than 100 employees.
Here's what you need to know before you join the movement.
Why CaaS?
Productivity and efficiency benefits are viewed as key drivers for VoIP adoption by nearly 30 percent of respondents in mid-sized businesses in North America, Research firm Frost & Sullivan claims. VoIP provides significant productivity features to any business, regardless of whether the phone system is located on the customer site or in the cloud.
Features such as Unified Messaging and PC Integration (pop ups, click-to-dial, call control, soft phone, find me/follow me) enhance your employees' ability to stay in touch with customers both in the office and on the road.
However, purchasing CaaS offers various architectural and financial advantages that cannot be replicated with on-site equipment. It is these advantages, and not simply features, that are driving business communications to the cloud.
During the Industrial Age, factories had to control production and create their own power. As more factories and ultimately businesses and homes required power, utilities built infrastructure to power them. Factories were (happily) out of the power business. Likewise, IP networks are the infrastructure to power CaaS.
By moving communications to the cloud, businesses can experience many benefits:1. Scalability. Since CaaS solutions take advantage of large systems owned by the provider, your business will not have to select hardware or software with the growth (or reduction) of your workforce in mind. There's no reason to throw out equipment because you need to get a bigger boat (or a smaller one).
2. Mobility. Services located in the provider's network are intrinsically prepared to support a distributed workforce at multiple locations or at home.
3. Disaster Recovery. Services located in the cloud will remain up, even if there is a local disaster, power failure, or line cut. When a customer calls the office, the CaaS auto attendant picks up and automatically forwards the call to cellphones, voicemail or alternative locations.
4. Manageability. Because they must support a wide range of customers, with various levels of technical acumen, CaaS providers focus their energies on ease of use. As a result, many hosted solutions are easier to manage than on-site equipment or software.
5. Upgradeability. When the provider adds new features, you get them. No upgrades, no fees, no problem.
6. Satisfaction and Service Level. Once a premise-based system is purchased, there is no going back if users are not satisfied with features, or the level of service is not adequate. A CaaS solution, meanwhile, is rented, and generally comes with stringent guarantees.
Costs and Savings
In a bad economy, companies do one of two things (or both): Increase efficiency or cut costs. A CaaS solution can uniquely provide both. First, new features mean new opportunities for efficiency. Second, when fully analyzed, companies will see real cost savings in moving to a CaaS solution.
In order to find these cost savings, businesses must evaluate hosted technology offerings in light of their Total Cost of Ownership.
TCO is an often overused and misunderstood concept. Many financial decision makers consider TCO as a soft or sunk cost argument to making an expensive technology decision. While a poorly formed argument can surely seem that way, CaaS can offer a quantifiable TCO that is generally equal to or lower than the traditional alternatives.
The bottom line is that purchasing any technology as a service provides the following:
1. Reduction of OPEX: Many direct and soft costs are bundled in with CaaS solutions. These include software/hardware maintenance; moves/adds/changes (MACs); training/certifications; power; cooling; selling, general & administrative expense (SG&A) for extra staff; network services (data, IP, voice); and security and compliance.
2. Elimination of CAPEX: There is no need for upfront capital or the liability of a business lease.In most cases, CaaS solutions can provide new features to your end users at a cost savings over supporting your existing system and carriers.
Preparing for CaaS
CaaS (or any VoIP deployment, for that matter) adds an entirely new responsibility to a business's existing network: adding and moving voice through the network. Voice streams are more sensitive to network congestion than data. While a millisecond delay in delivering a Web page is likely not noticeable, that same delay when delivering a voice packet will be experienced as a stutter or moment of silence.
There are three main factors that affect the quality of a VoIP deployment: latency, packet loss, and jitter. To avoid these issues and ensure your network (whether LAN or WAN) has sufficient bandwidth to smoothly and flawlessly carry voice, a thorough network assessment should be performed in advance of the implementation.
To size the amount of bandwidth needed to cover your voice usage, you will need to understand the CODEC (Compressor/Decompressor) that your CaaS provider uses. Voice sessions can vary in size from roughly 30Kbps to close to 100Kbps. This CODEC will also dictate the quality of the compressed audio.
Network managers should also be prepared to address end-to-end class and quality of service. Class of Service (CoS) refers to a network's ability to classify and treat traffic differently based on the type of data being transmitted. Meanwhile, Quality of Service (QoS) applies to the standards that can be placed on the classified traffic.
Ensure that LAN switches are managed and capable of supporting QoS. WAN links and service providers should provide bandwidth that honors QoS between sites by utilizing Multiprotocol Label Switching (MPLS).
Unlike traditional handsets, which obtain inline power from POTS (Plain Old Telephone Service) phone lines, VoIP handsets are connected to the Ethernet. As a result, power must be provided through a Power over Ethernet switch (POE) or plugged into the wall.
While these considerations should be taken seriously, they should not be seen as obstacles. A well planned and executed CaaS strategy can deliver call quality ratings similar to or better than traditional implementations. It can also deliver on the productivity and financial advantages that prompted you to consider it in the first place.
---
Scott Kinka
is senior vice president, network service for
Evolve IP
, a Communications as a Service provider that offers businesses a suite of services including managed telephony, hosted applications, managed networks, and security and compliance.