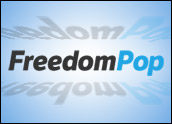 FreedomPop on Wednesday announced a new plan that provides Android smartphone users with access to 10 million WiFi hotspots across the U.S. for US$5 a month.
That sum will give any smartphone or tablet — regardless of any carrier service it might have — unlimited talk, text and data on FreedomPop's WiFi hotspot network.
Users will have to download FreedomPop's Android app. An iOS version will be unveiled later, but the company apparently has no plans to offer a Windows Phone version.
"We are cutting the carrier out and transferring value direct to consumers," FreedomPop spokesperson Tony Miller told the E-Commerce Times.
Consumers will be able to "cut down cellular data bills or eliminate them completely in dense metro areas."
How It Works
Smartphone owners already can access WiFi networks on their devices by turning on the appropriate setting, so why should they pay another $5 for FreedomPop's service? Users will get access not only to public networks but also to closed or premium access points the public can't currently access, Miller said.
Further, the service will auto-connect, so users won't have to manually accept networks' terms and conditions or enter passwords or other codes, Miller explained. "As you walk from Starbucks to Staples, your WiFi is persistent, without your having to keep on manually connecting."
Also, users will not have to put up with mobile ads, he noted.
About 120 million people — between 65 percent and 90 percent of the top 100 metropolitan markets in the United States — reportedly will be able to access FreedomPop's WiFi network.
It reportedly includes WiFi networks at large retailer locations such as McDonalds, Starbucks, Burger King and Best Buy. FreedomPop also is teaming up with WiFi aggregators.
Miller declined to name any aggregators, because "some of these partners offer WiFi to their users, and we don't want to undermine that."
What's the payoff for chains such as Starbucks and Burger King for participating in FreedomPop's plan?
"To get more customers, theoretically," Miller said. "That's why they offer WiFi in the first place."
No Airports for Now
Perhaps the biggest problem with FreedomPop's WiFi service is that it won't cover airports — where phone communications are important to consumers.
The company has not struck any deals with Boingo, whose WiFi service covers 60 percent of the top 50 airports in the United States and more than 40 percent of the world's top 50 airports.
"We may add Boingo [later], but right now its pricing is exorbitant, so the user would need to sign up directly in airports," Miller explained. "That's actually not that big a deal, given users have to do that today."
Targeted Customers
Smartphone users who want to reduce their cellular data plan costs are the obvious target for FreedomPop's WiFi service.
The company also is counting on consumers who have older, unused smartphones taking up its plan to give these devices a fresh and inexpensive new lease on life.
Hundreds of thousands of people reportedly have tried to sign up for FreedomPop's cellular services using abandoned smartphones, but because it uses Sprint's network, FreedomPop could not accommodate other carriers' customers.
Are Carriers Under the Gun?
FreedomPop boasts that carriers will be put under pressure, but its $5 WiFi service "is only going to attract a small number of users," predicted technology industry analyst Jeff Kagan.
"There are hundreds of millions of smartphone users, so that's just a small slice of the pie, and I don't think it's going to cause AT&T, Verizon, Sprint or T-Mobile to do anything differently," he told the E-Commerce Times.
However, even if FreedomPop's move is not disruptive, Kagan noted that "this is a way for them to expand on their existing model."