Americans are expected to spend US$4.6 billion on fantasy sports this year, while vying for a payout of around $107 — the average prize for winning the biggest fantasy league games, according to American Express.
Driving that spending and risk taking are a passion for sports, the promise of purses, the push of new platforms, and the pull of camaraderie.
By the Numbers
Blooming from backrooms and bars into a system available anywhere a smartphone has bars, is fantasy football. About 74.7 million Americans plan to participate in a fantasy football league this year, said American Express spokesperson Jane Di Leo.
"Fantasy sports — fantasy football, in particular — are becoming an increasingly popular activity among Americans," she told the E-Commerce Times.
Of the people who indicated they intended to join a fantasy sports league, about 48 percent said they would join a single group, according to the American Express Spending & Saving Tracker. About 27 percent planned to join two leagues, about 8 percent intended to juggle three, and about 6 percent expected to participate in four or more.
Just as more women have been embracing football, there's been an uptick in females engaging in the fantasy side of the game. About one in five fantasy contestants were women, the tracker found.
The top places to play online include ESPN, with about a 54 percent market share; Yahoo! Sports with about a 40 percent share; and CBS Sports with around a 29 percent stake. While the rise of such sites has made it possible to set up a league and draft players from anywhere that has Internet access, about 40 percent of fantasy leagues still draft at a friend's home, and about 8 percent hold the proceedings at a bar or restaurant.
The League, Before the Show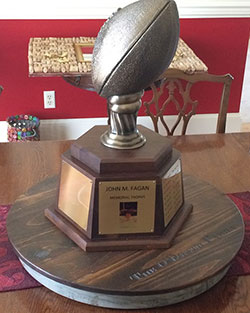 Unlike the fictional fans in the television sitcom The League, who are relative newbies to the fantasy games, Mike Nemecek and his pals have been battling to predict the box score rock stars for more than three and a half decades — all for a trophy whose stature and stateliness is reminiscent of Stanley's massive cup.
A 35-year veteran of fantasy games and manager of his team, Nemecek is also a public relations manager for SAS, a software company that offers sports analytics, among other tools.
Nemecek's league has seen the rise of the Wildcat and West Coast offenses, and the members joke that they still use leather helmets with no face guards.
"When we started playing, there was no World Wide Web," Nemecek told the E-Commerce Times. "Weekly results were snail-mailed, and the Monday morning newspaper and its box scores were hugely significant. There were no fantasy magazines, let alone websites and TV shows."
Though the times have changed, the premise, at its core, remains untouched. Draft a team composed of any player from a sports league, handpick starters from that roster, and hope that week's starting players record better stats than rivals.
It isn't the formula that glues leagues together. It's the people who love it — the ones who've known each other for years or decades, and the ones who can take and give playful jabs others might not understand.
Today, online platforms host fantasy draft lobbies, convert stats into points in real time, and give league managers intricate consoles for governing. Despite the ease online draft boards afford, Nemecek's league still drafts in person, he said, and travel is the group's biggest expense.
"Our draft, hosted by the previous season's champion, is an annual highlight," he said. It's "described by my brother, Phil Nemecek — the league's founder and self-appointed commissioner-for-life — as a 'combination of Christmas, Thanksgiving and my birthday — a day I look forward to all year.'"
Though Nemecek's league has evolved to utilitize Web tools, its members still use the classic weekly matchups formula, in which teams try to score more than their scheduled opponent each week. These days, however, the variety of games has evolved to target both hardcore gamblers and casual consumers wary of ponying up for games of pure chance.
Jeopardy: The Daily Disbursement
Today, and each day really, there are online platforms that offer fresh sets of fantasy sports challenges every 24 hours, distilling the weekly model into hard shots for avid gamblers. Daily fantasy sports platforms have surged over the last two years, as America's appetite for fantasy sports requires more meal options.