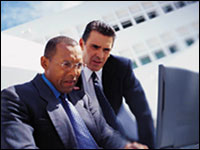 A persistent myth in the tech world is that major enterprises in highly regulated industries are risk-averse and reluctant to adopt new technology innovations. In the case of the financial services sector, this has not been the case for years, and it is being disproved again as a growing number of financial institutions aggressively pursue a widening array of cloud computing alternatives.
One of the foundations for this myth in the cloud arena has been the initial small size of Software as a Service deployments. For instance, because Salesforce.com's average deal size for many years was approximately 10 users, many industry observers misinterpreted this figure as indicating that SaaS was attractive only to small and medium-sized businesses.
In reality, SaaS was being adopted incrementally within a broad assortment of enterprises by disgruntled employees and business units via the clandestine procurement process we now refer to as "shadow IT" or the "consumerization of IT."
Beacons of Early Success
As we all know now, Salesforce intentionally employed this go-to-market approach to circumvent the traditional IT-centric, top-down buying patterns of the past to win the hearts, minds and pocketbooks of a new buyer — the end-user. In fact, it wasn't until last year that Salesforce established a new division to target SMBs.
In retrospect, one of Salesforce's most important customer wins — one that gave it tremendous credibility among major corporations — came in 2007 when Merrill Lynch signed up for its "on-demand" solution. At the time, the financial institution's rollout of Salesforce to its 25,000 global employees made it one of the company's largest deployments, and it served as a significant milestone in the overall acceptance of SaaS among global enterprises.
However, anyone who knows the financial services industry knows that these institutions have been at the forefront of technology innovation for many years. They are constantly trolling for new technologies and testing their capabilities. Many experienced entrepreneurs and their venture investors treasure their financial industry connections, who serve as initial sounding boards for their new ideas and beta sites for their early deployments.
Though not typically featured in press announcements, these deployments are often "lighthouse accounts." They can serve as behind-the-scenes references that are invaluable to a startup seeking to gain a foothold in the enterprise market and win over an elite class of CIOs.
No Cloud Ceiling
Few industries have faced as much turmoil over the past decade as the financial sector. Escalating challenges are compelling these institutions to even more aggressively explore ways to leverage the latest in cloud, mobile and social innovations to achieve their business objectives.
This phenomenon drew more attention thanks to a recent Wall Street Journal article that described the way the FinTech Innovation Lab has been helping tech startups gain access to New York City financial institutions since 2010.
The program "is accelerating our access to solutions," Morgan Stanley CIO Steve Sparkes told the Journal, and cloud alternatives are of particular interest.
"We need to digest large amounts of data from diverse sources," said Sparkes. "Our security infrastructure inhibited that … ."
Not only are the CIOs paying attention to the latest cloud options available to them, but their CEO bosses are making personal as well as corporate investments in hot cloud startups. For instance, nCino, a new provider of secure, cloud-based bank operating solutions for financial services companies, recently raised US$9 million in a Series A round of funding from financial industry executives including former Morgan Stanley chairman and CEO John Mack and Promontory Financial Group CEO Gene Ludwig.
The accelerating pace of cloud interest and adoption among financial institutions and other large-scale enterprises is already fueling a trickle-down validation of the viability of cloud-based solutions among SMBs as well. Most importantly, no one should be fooled into thinking that there is a ceiling on the size or type of organization that can take advantage of the cloud.