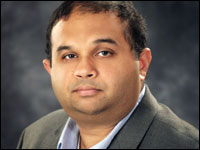 Information Technology managers often find themselves between a rock and hard place when it comes to IT budgets. Spend too much and they come under scrutiny; spend too little and they find themselves at the center of frustration and dissatisfaction.
Unfortunately, Information Technology is a beast with an insatiable appetite — it has to be constantly fed in order to maintain its well being. As a result, IT managers have to walk a fine line between managing cost, service quality and risk, which form the three levers of how they manage their shop.
A well-managed IT shop ensures that all three levers are well balanced across three key areas: technology, people and processes. In a tough economy, IT managers have to make tough choices that may change the dynamics of these three areas. However, an effort needs to be made at every step to rebalance them, while still acknowledging that in many cases, achieving a higher level of service quality requires higher capital and operational expenses.
If these expenses are made in a manner that offers a tangible return on investment over a reasonable period of time, they can be considered an investment that is worth the risk.
Spending on Technology
IT cannot function without technology. Existing investments need to be constantly reviewed and updated as necessary, no matter how incremental they may be. While some shops may choose to defer asset refreshes and upgrades, pushing them off too far may cost more money in the long run, due to degraded service quality and dollars lost to higher maintenance costs, ultimately exposing the entire company. So how can IT shops avoid these pitfalls?
Start by taking stock of the entire installed technology landscape in your environment and look at the lifecycle of each element. If something is coming off a lease or maintenance agreement, it may make sense to start getting the gears in motion to replace it before the vendors start hounding you.
The earlier the head start on this process, the better the chances are of a more informed decision on the replacement. In addition, seeking outside help — from pure play consulting companies that offer technology and vendor-independent advice — may seem expensive at first, but it is a small price to pay for the value of the investment at stake.
Most asset refreshes are, and should be, focused on driving efficiency and bringing down the overall cost of managing the environment. Therefore, initiatives such as server virtualization and data center consolidation, and/or transformation initiatives such as cloud, data management initiatives and storage/SAN consolidation, should receive a higher priority from an infrastructure perspective.
2011 (and what is remaining of 2010) may as well be the era of the cloud. Almost every company I have talked with is planning a cloud initiative. Whether it is moving email to a hosted solution or building a private cloud, companies have realized the value in services that offload short-term capital expenses to long-term operational expenses.
Spending on People
The staff is the biggest asset of any IT organization. A well-run IT organization always invests in its people and enables them to function better and more efficiently. Like technology, people skills have to be kept up-to-date too. Whether it is investing in training existing resources or hiring new resources to augment existing skills, this is the time to turn your attention to those efforts.
Many companies are still in a hiring freeze and do not expect that to change anytime soon. While that is unfortunate, it is worth examining creative ways to study the "buy vs. build" scenario. In lieu of new hires, IT shops could choose to offload certain select mundane aspect of their infrastructure support to managed services companies, thus freeing existing resources to take on a more proactive role within the organization.
Senior resources could be trained to take on an oversight or architectural role, while some of the junior resources could be trained to provide escalation support. As a result of the Internet boom, the traditional training model may be changing too. Sending employees to week-long training classes may be a tactic of the past. IT departments could instead provide their employees downtime to self-learn technology and implement it in their labs.
Vendors, in many cases, will gladly provide loaner or evaluation equipment for lab testing or proof-of-concept efforts. In many cases, vendors will also send their resources onsite to assist with such initiatives. These exercises are much more efficient in terms of cost, resource morale and economies of scale.
Spending on Processes
An IT organization is most efficient when it is backed by a solid matrix of policies and processes. Policies and processes are not meant to introduce more red tape, but rather to introduce a sense of discipline in how the organization functions and interacts with its "customers."
There are several areas for improvement, so why are we talking about processes in the context of IT spending? That is because improvement of existing policies and processes — or deployment of new ones — requires capital, both direct and indirect. It is an investment that, if executed carefully, provides long-lasting results: improved service quality; lower cost as the organization is run more seamlessly; and less risk to the business.
So what are some of the key areas for improvement? Documentation, standards creation and enforcement, collaboration suites, ticketing and change management are some of the low-hanging fruit. Some of the challenging areas are data classification and tiering, creation of an IT service catalog, etc.
As with technology and people, IT departments should acknowledge the challenges and limitations in creating and deploying policies and processes with internal resources — given that some of these resources may not be tied up with other initiatives or day-to-day operations.
All Together Now
Efforts to improve people, processes and technology should be top-of-mind for IT managers. These three areas form the cogs of a well-run IT organization.
As a result, IT spending or cuts should therefore examine all three of these areas in a holistic manner, rather than each one of these individually. Not following this strategy means that spending cuts in one area can create an imbalance in the other, exposing the organization to degraded service quality and greater risk — and eventually leading to more expenses.
---
Ashish Nadkarni
is practice lead at
GlassHouse Technologies
.