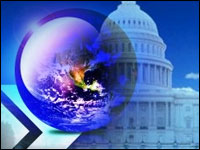 U.S. government employees led a big jump in the use of technology to work from home or other locations, instead of their normal offices, during an annual telecommuting exercise in March.
For employers and vendors, the message seems clear that the market for telework and mobile workplace equipment and software has only one way to go — up.
Participants in this year's Telework Week exercise hit 136,093, a 90 percent increase from last year. From March 4-8, each participant averaged spending at least two days during the week working away from their normal office site. More than 80 percent of participants in the event were U.S. government workers.
The event was sponsored by the Mobile Work Exchange, Cisco, and Citrix.
"The surge of Telework Week 2013 participants proves the need for technology services that can enable today's mobile workforce," said Tom Simmons, area vice president of public sector at Citrix. Local factors such as normal traffic congestion in the Washington D.C. area, compounded by a snowstorm, may have bumped up employee interest.
However, the near-doubling of participation also indicated a long-term upward trend in the popularity of telework, and the increasing acceptance of mobile work by employers.
Variety of Mobile Tools
For vendors, the mix of devices used in this year's event may provide clues as to the future market for telework and mobile technology.
The Mobile Work Exchange, in a survey of 2013 participants, found that 91 percent mentioned they used laptops vs. 89 percent in 2012. Other technologies cited by participants were virtual private networks at 60 percent vs. 52 percent for 2012; smartphones at 27 percent (20 percent last year); virtual desktops at 10 percent (12 percent in 2012); collaboration tools at 12 percent (10 percent); video conferencing at seven percent (five percent); desktops at four percent (five percent) and tablets at four percent (three percent).
"There is definitely a huge potential for mobile devices for telework. The trends for increased mobility, and the proliferation of innovative devices such as smartphones and smart tablets — along with secure mobile collaboration tools that support rich communications with data, voice, and video — is shifting work from a 'place where you go' to a 'what you do anytime and anywhere' situation," Kacey Carpenter, senior manager, global government and public sector marketing at Cisco told the E-Commerce Times.
Cisco estimates that mobile utilization will grow substantially between 2012 and 2017, with smartphone mobile traffic growing 10 times during the period at a compound annual growth rate of 59 percent. The CAGR is expected to be 109 percent for tablets and 25 percent for laptops during the same period.
"The explosive increase of devices is driving the growth of mobility at a faster rate than the Internet itself grew at its start," Carpenter said. "Mobility will change the way every government conducts business. Mobility is also critical to how successful governments are today in empowering workers and serving citizens."
Virtual Office Emerges
The high rate of VPN utilization during the recent telecommuting exercise was also significant.
"The role for VPN and security is critically important for mobile government and telework," Carpenter said. Cisco has recognized the trend by developing its virtual office offering over an encrypted VPN. In addition, the company's "unified workspace" service is designed to create a secure, flexible, and mobile work environment.
"These transformative mobile solutions can help government organizations reduce operational costs, provide shared services, and promote collaboration by connecting agencies, employees, and citizens from any device, on any network without compromising security," he said. A VPN helps to create a transparent experience that "makes you feel like you're in the office instead of a remote location."
Cindy Auten, general manager of the Mobile Work Exchange, also noted the role of VPNs in the March event.
"The typical Telework Week participant used a laptop and connected through a VPN. Some participants noted using smartphones and tablets as well," she told the E-Commerce Times.
The increased use of laptops indicated that most participants worked from their home offices. "Laptops are ideal in these types of telework situations when employees work on a part-time arrangement where some days they work from home, and some from the office," she said. "By offering a laptop, you essentially operate under a one-computer model."
The role of handheld devices may be determined more by the function of the employee, such as a single-site clerical worker vs. a health inspector who is required to visit many facilities as part of the job.
"Organizations have to measure their mobile IT strategy based on the user," Auten said. "In some cases, smartphones and tablets are more ideal in the work situation. In this situation, the employee would be considered more of a 'mobile employee' rather than a teleworker."
Another positive development, she noted, was that 66 percent of participating organizations reported that management is "more open to and encouraging of telework" than a year ago. In addition, all organizations noted equal or greater productivity during Telework Week, and no organizations found employees were less productive.
"We are optimistic about the future use of collaboration tools in a more mobile environment," Auten said. "We believe this is a key technology that can help ensure that employees and managers can stay connected, regardless of where they are located."
The Federal Buzz
Electronic Government: The Obama administration has proposed a boost in funding for the White House E-Government Office in its 2014 budget.
The program, directed through the White House with operational support from the General Services Administration, will be funded at US$20 million, nearly $7 million more than the 2013 actual level.
"Much of the increase will be managed through GSA for areas like cloud computing and our mobile and digital technology initiatives, as well as cyber security," Lisa Schlosser, deputy administrator of the federal Office of E-Government and Information Technology, told the E-Commerce Times.
Part of the additional funding will be used to bolster implementation of the FedRAMP program to accelerate the safe and secure adoption of cloud technology. More funding will be allocated to open government and transparency functions as well as to the performance.govprogram to cut waste, streamline delivery and measure IT performance.
Cyber Standards: The National Institute of Standards and Technology (NIST) has published the fourth revision of the government's foundational computer security guide, Security and Privacy Controls for Federal Information Systems and Organizations (SP-800-53).
Designed for federal agencies and private sector contractors involved in government IT operations, the guidance addresses state-of-the-practice security controls and control enhancements. Topics include mobile and cloud computing, insider threats, applications security, supply chain risks and advanced persistent threats.
"This update was motivated by the expanding threats we all face," said NIST project leader Ron Ross, "including the increasing sophistication of cyberattacks and the fact that we are being challenged more frequently and more persistently."