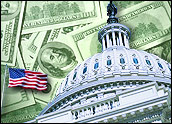 The U.S. government will be a prime target for mobile information technology vendors offering a variety of devices, associated telecom services, and mobile management assistance over the next several years. By 2017, annual federal spending on a wide range of mobile IT capabilities could approach US$10 billion.
In marketing mobile products and services to the federal sector, vendors will need to demonstrate that their offerings provide value and effectiveness — but that's not all. Providers also will need to be flexible in matching their offerings to agency requirements.
Importantly, vendors that provide federal agencies with mobile deployment guidance and that take a true partnership approach with prospective government customers will gain a clear marketing edge.
"Look beyond just providing technology" to obtain business, said Shawn McCarthy, research director at IDC Government Insights.
"You may be called upon to offer expertise, consultation, and best practices to help government agencies understand the best way to deploy mobile solutions," he noted in a IDC report released earlier this year.
In the federal market, annual spending for smartphones, tablets and e-readers will grow from $1.90 billion in 2012 to $2.38 billion in 2017, IDC projects in the report, which covers the government market at all levels — local, state and federal — including general observations about government mobile IT procurement, plus specific market forecasts and guidance.
The study offers guidance to government agency IT managers as well as to vendors.
Federal spending for wireless voice and data services in 2014 will exceed $6.0 billion, the report predicts. Assuming even a modest level of growth over the next several years, federal spending on wireless services will be an attractive target.
Advice to Agencies: Keep It Simple
In gearing up for the mobile technology environment, government agencies should look first for mobile solutions that are easy to understand and deploy, according to IDC. Other pointers for government IT managers:
Make improvements to your services-oriented architecture that will allow you to offer multiple applications hosted by third parties.
Look for Android devices that may offer some of the most powerful and compatible solutions, but be aware that there is no single operating system across these ranks, and there is upheaval in the ranks of Android developers, which could mean extra time for compatibility testing.
Consider phones running the Windows Phone 8 OS. They have great potential for high compatibility with existing documents and workflow, for ease of access to enterprise apps, and for virtualized desktops. However, Windows Phone 8 has not gained huge market share against Apple and Android solutions, making the future of devices running it as an enterprise solution hazy at best, IDC cautioned.
Providers should offer hosted versions of all their applications, IDC recommended, noting that different agencies will want different ownership or subscription choices. This is especially true at the federal level, where headquarters requirements could be very different from operations in the field, even though a contract will cover an entire department.
In addition, vendors should be creative when bundling services. Offering things like configuration management of device life-cycle management can help to close a deal.
A federal digital government strategy was initiated last year to encourage mobility adoption, the IDC report mentions. Vendors need to be aware of how agencies are meeting the goals of that strategy. Providers also should consider subsidizing or building startup costs into service contracts.
Providers should opt for anything that is mobile-payment oriented or GIS-enabled, as these are hot right now, and there will be growing government demand for these solutions in the future, the report suggests.
As federal agencies continue to accept tight budgets in the foreseeable future, mobile solutions will be one of the key transformative technologies in achieving cost-effective IT, observes a Deltek analysis of the federal market.
Partnership Role Critical
While some major players currently occupy dominant positions, the federal mobility market still presents opportunities for multiple providers.
"The top vendors in this space are those that are fairly well entrenched, such as Verizon and AT&T, but my advice would be to align messaging and solutions to the biggest capability gaps. Some agencies are examining how to make their infrastructure mobile ready, and many are examining mobile device management. All agencies are concerned about mobile security," Deniece Peterson, director of federal industry analysis at Deltek, told the E-Commerce Times.
"Helping agencies figure out how to get to a place that provides a stable and secure mobile environment will be critical," she added.
Some of the factors that vendors should keep in mind in the federal mobile market are that agencies are interested in Storage as a Service to serve as a centralized location for purchased commercial mobile applications, and that agencies are seeking mobile application catalogs to simplify procurements, according to Deltek's analysis.
Also, federal IT managers are likely to issue contracts and task orders requesting terms of use for commercial mobile applications that are designed for federal needs. Agencies will continue to rely on the basic General Services Administration Schedule 70 IT procurement vehicle for mobile device and service procurement, but increased use of blanket purchase agreements is likely as well.
Vendors need to be nimble and creative in the federal mobility market, Deltek emphasized. For example, vendors should consider offering a mobile device management, or MDM, service if they don't already do so.
"Agency heads do not want to be in the business of managing devices," Deltek said in its October 2013 assessment of the federal IT market. Providers should "work with agency customers to help them assess the readiness of their infrastructure in terms of both capacity and security," and should focus on key security features such as multifactor authentication, encryption, partitioning and remote data wiping.
BYOD Deployments Cut Both Ways
Federal agencies will welcome mobile applications that are specifically designed for federal government challenges, including such features as data sharing across applications and storing federal data in public clouds, Deltek noted.
Many federal employees are interested in utilizing mobile devices they already own personally for their workplace duties, in what generally is referred to as the Bring Your Own Device, or BYOD, phenomenon.
Agencies should continue to develop and refine BYOD policies and related security policies, Deltek suggested.
Some agencies would benefit from expanding BYOD to create a domino effect in things like remote access, unified communications, and cross-platform data synchronization, IDC recommended.
Agencies should "be aware of the impact that new devices will have not only your network but on these other services as well," the report suggest.
"But the BYOD element is something of a double-edged sword. It can enhance the adoption rate of mobile deployments, but it raises questions on supporting all those devices," McCarthy told the E-Commerce Times.
Devices acquired through a federal procurement will have the same type of operating system, for example, while employee devices necessarily involve a multiplicity of OS platforms posing a challenge of how they can all be supported by an agency. Device and OS fragmentation are continuing issues in the general mobile environment, not just in the public sector.