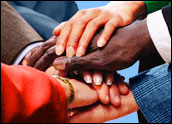 It starts in kindergarten. Three playground swings and 15 kids. The teacher introduces the concept of sharing the swings by limiting the time per child. Fast-forward 30 years and those same children are hugging their IT servers and programs and clinging to "their" silo stash of legacy equipment and software.
Now Federal CIO Steven VanRoekel and the Office of Management and Budget are together assuming the role of kindergarten teacher and requiring federal agencies and workers to share — to operate their IT systems in a more cooperative way.
"To be successful in resource-constrained operating environments, federal agencies must eliminate wasteful spending that results from implementing duplicative solutions for mission, support and commodity IT functions," reads the Federal Information Technology Shared Services Strategy released by the White House in early May.
A shared service is "an information technology function that is provided for consumption by multiple organizations within or between federal agencies," according to the strategy.
"Agency leaders must work with management, staff and industry partners to create and cultivate a 'Shared-First' orientation throughout the organization," it continues. "This will involve changing historical ways of thinking about how business units and programs function — to move from independent silos of capability toward an integrated matrix of shared services that provide IT capabilities across the entire agency."
White House Sets IT Targets
The program will affect not only ongoing IT operations, but also the future procurement of hardware and software offerings from vendors.
In a directive issued with the strategy, VanRoekel required federal agencies to submit by Aug. 31 a plan that identifies two IT areas for migrating to a shared service. The migration projects must be completed by Dec. 31.
The strategy identifies three areas where shared services come into play: commodity IT; support functions; and mission-specific operations.
Agencies can accelerate the move to shared services by focusing on lower-tier operations — or low-hanging fruit within commodity IT operations — that include websites, content management, email, help desks and operational functions.
The White House put some teeth into the commodity IT goal with another requirement that has a procurement impact. By June 29, federal agencies must draft an "action plan" to consolidate commodity IT spending under each agency's chief information officer and "establish a measurable financial goal to reduce total IT spending based on more consolidated commodity IT buys and intra-agency shared services."
The potential impact on federal IT spending for reducing duplication is hardly "nickel-dime" tinkering. In a review of agency IT investments reported for budget year 2013, OMB spotted "many redundancies and billions of dollars in potential savings that could be achieved through consolidation and a shared approach to IT service delivery within and between agencies."
OMB discovered almost 4,400 separate IT projects in the 2013 budget with an aggregated estimated spend of US$46.5 billion for potential shared-service applications.
ROI Goal Supported
"The shared-service initiative is just one tool in the tool box to maximize return on investment, and it is related to other cooperative programs such as cloud technology and data consolidation. The key is always implementation, but I don't see any negatives about shared services," Mike Hettinger, vice president for the public sector group at the Software and Information Industry Association, told the E- Commerce Times.
"Anything that helps improve ROI is a positive," he said.
The initiative is just one of many follow-up efforts that have been have been generated by OMB since a 25-point federal IT reform program was launched in Dec. 2010. The sheer volume of directives could swamp the capability of federal IT managers to implement them.
"It's possible the agencies could be overwhelmed, but I think they can handle shared services in the context of the reforms. OMB is taking a crawl, walk, run approach and we are just emerging from the crawl stage," Hettinger said.
"The 25-Point Plan and the shared services strategy are common-sense policy frameworks that adapt commercial best practice to government. Because OMB has linked the strategy to the budget timetable and asked agencies to start with achievable initiatives in 2012, agencies will be able to comply while making real progress," Dan Chenok, senior fellow at IBM's Center for The Business of Government, told the E Commerce Times.
In addition to technical issues involved in shared services, the strategy notes that "cultural change" is a critical issue for implementing the program.
There is a "need for agencies to move away from internally centered, program-specific thinking," it states, "and move toward a paradigm of consuming and providing IT shared services with multiple groups whenever possible."
"The commodity focus of federal shared services will mean that departments lose direct control of the bottom infrastructure layer and this is where the cultural issues step in. Anger and resistance can be expected at having to transfer budget and human resource capacity to shared services," Alison Brooks, research director at IDC Government Insights, told the E-Commerce Times.
"I think the emphasis really should lie on the people component of the people, process, technology trifecta. They absolutely must get public sector workers to understand the benefits, or this simply will not move forward. So, my advice is to proactively invest in change management," Brooks said.
Procurement Window Opens
From a procurement perspective, vendors will gain some added visibility to the federal market. The strategy requires agencies to create an inventory of IT assets, a tool that commercial providers can use to size up potential business. In addition, the government will set up its own catalog of shared services so that all agencies will know what other agencies are doing and where they can tap into an existing resource rather than go solo on a procurement.
In addition, the program encourages agencies to use the Federal Strategic Sourcing Initiative (FSSI), a government-wide acquisition service that leverages the government's consolidated buying power to acquire and manage IT resources at lower cost.
"FSSI objectives are complementary to Shared-First concepts, and three current FSSI acquisition programs address commodity IT services: print management, wireless and mobile, and software licensing," the strategy document reads.
"In addition to FSSI, a number of agencies have developed enterprise-wide strategic sourcing initiatives to acquire other types of commodity IT services, including laptops, desktop PCs, website management, email, and help desks. Agencies are encouraged to use government-wide FSSI acquisition vehicles or their own enterprise-wide strategic sourcing vehicles to lower costs and promote a Shared-First operating culture," the plan recommends.
Vendors that can provide specific shared-service facilitation offerings or who can reinforce the shared-service goal with their product offerings could gain some opportunities from the initiative.
"Industry benefits from smarter buying by government. The shared-services strategy, well implemented, will enhance the government's position as a smart consumer, improving the efficiency of the system by which industry supplies government with goods, services and information," said Chenok.
"The coming year is an exciting time for federal IT, as FedRAMP (an IT security protocol) and the move to shared services provide the structure that will help new projects for cost-cutting take root, ultimately saving taxpayers money by helping government become more efficient," he said.
Transitioning to improved IT methods designed to save money in the long run can produce market opportunities for vendors in the short run as agencies make upfront investments.
"While it's true that there are lots of opportunities out there for vendors, shared services tend to elongate procurement cycles and thus favor larger vendors," said Brooks.
"On the upside, there's a lot of money to be made on the citizen side, in terms of service delivery consolidation," she noted.
Opportunities include incorporating extended IT architecture, embracing cloud configurations, social media, and mobile technologies.