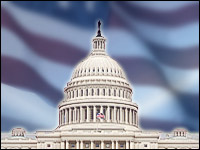 Three to five years in the information technology business may seem like a long time, so it may appear that U.S. government agencies have been pursuing cloud technology for ages; incipient projects began as far back as 2008. It was also more than two years ago that the White House initiated a program to pick up the pace of federal cloud adoption by mandating agencies to deploy cloud solutions for at least two components of their IT operations.
It now appears, however, that adoption of cloud technologies by federal agencies is truly about to take off.
One factor behind the projected growth is pressure on agencies to control costs. Another is that agencies are discovering that cloud-based solutions are suited to a wide range of IT operations — not just common applications such as email.
"At this point we've just scratched the surface with cloud technology at the federal level," said Kevin Plexico, vice president for information solutions at Deltek, at the recent Cloud/Gov 2013 conference in Washington, D.C., presented by the Software and Information Industry Association and Deltek.
Federal agencies spent about US$734 million on cloud implementations in fiscal 2012, according to Deltek. That investment level for cloud projects will reach about $3.1 billion annually by 2017. Between 2012 and 2017 cumulative federal cloud investments will reach $11.9 billion, Plexico said. Of that six-year total, federal agencies will spend approximately $5.4 billion on cloud-related software, $4.5 billion on cloud-based infrastructure, and $477 million on cloud platforms.
"The rubber is really starting to hit the road for cloud adoption at the federal level, and we have seen it pick up in the states as well," Michael Binko, CEO and president of Kloudtrack, told the E-Commerce Times.
Last week the National Science Foundation, which disperses about $5 billion annually for research and related activities, awarded a contract worth $24.4 million to Accenture for upgrading NSF's 25-year-old accounting system to a commercial off-the-shelf software setup hosted in a cloud-configured, shared service environment.
The Federal Aviation Administration also plans to meet with prospective vendors in March to explore the use of cloud technology for the FAA's next-generation weather data processing operation. The FAA issued a request for information for the project on Feb. 12, 2013.
Cloud Pace Quickens
Federal cloud projects, as indicated by procurement solicitations, amounted to just six initiatives in 2008. The pace accelerated to 19 projects in 2009, 62 more in 2010, another 120 in 2011, and 164 in 2012. In the first five months of the 2013 federal fiscal year, which began on Oct. 1, 2012, agencies issued 95 cloud procurement solicitations, according to Deltek,
Plexico attributes the growth in federal cloud deployments to the overall change in the way the government is managing IT. For example, agencies have shifted gears and are now focusing on the content and value of the "I" part of IT — information and data — and less on infrastructure assets.
Data-centric policies have accelerated the acceptance of outsourcing infrastructure and application software. The combination of cloud implementations with infrastructure consolidation is ncreasingly driven by efficiency demands, as cloud configurations support agencies' ability to handle the explosion of data.
Cloud deployments have also become technology enablers at the core of enterprise service models being developed to serve agency-wide needs, rather than IT dedicated to narrower silo purposes.
Cloud approaches are useful for injecting newer technology models into agencies' information acquisition systems, and they also serve as a means for risk-mitigation against technology obsolescence, Plexico said.
Less Turbulence in Cloud Procurement
A factor related to the pace of cloud adoption is the significant change in the procurement process for government agencies. Instead of contracting for a single long-term and high capital cost IT project, agencies find themselves dealing with shorter-term payment cycles related to the cloud concept of essentially renting IT capabilities vs. owning assets and resources.
"It's still a little awkward for the agencies. There are a lot of lawyers involved because of figuring out how to work service level agreements," Susie Adams, chief technology officer for federal sales at Microsoft, told the E-Commerce Times. "Also, the agencies have to figure out how to deal with subscription-type billing structures vs. big project financing. But they are getting there — and there's no doubt we are moving IT acquisition to a simpler way of doing business."
To facilitate cloud adoption, the General Services Administration has rolled out a number of different contracting platforms for federal agencies to use in acquiring cloud services, including Software as a Service and Infrastructure as a Service protocols.
While generating more types of contract mechanisms could be confusing for agencies, new approaches to acquisition are generally beneficial. "The creation of multiple contract vehicles are designed to give agencies a broader scope of choice and the opportunity to move away from favorite contract methods to more innovation," Plexico told the E-Commerce Times.
The acquisition of applications focused on case management, customer relationship management, infrastructure, communications and email dominate the proposals for federal cloud adoption. However, there's been recent movement to higher-order purposes such as geospatial activities, mobile technologies and analytics, Plexico noted.
A similar evolution is happening from Binko's vantage point. "Cloud applications are moving up the food chain to best practices work, data management and other purposes," Kloudtrack's Binko observed.
While the White House mandate of two years ago still stands in terms of requiring agencies to convert some operations to cloud technologies, that mandate has been reinforced with the federal "digital strategy" policy launched in May 2012. The strategy focuses on three goals: improving public access to government data and services; managing IT in secure and efficient ways; and stimulating innovation in utilizing the rich trove of data within the government.
"We see the cloud as a component of the broader IT strategy," said Federal CIO Steve Van Roekel at the Cloud/Gov 2013 conference. "The cloud is really an engine of innovation which will allow us to do more with less."