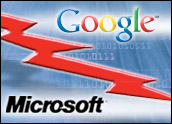 The U.S. government's drive to adopt cloud technology has generated a huge opportunity for vendors — and has sparked fierce competition for the business.
In the latest go round, Unisys, in partnership with Google, emerged victorious with a contract to provide a cloud-based email system for the General Services Administration. However, it didn't take long for competitor Microsoft to downplay Google's GSA offering while promoting what it contends are the superior features of the Microsoft entry.
GSA awarded the five-year, US$6.7-million contract to the Unisys-Google partnership for email and collaboration tools that will reduce inefficiencies and lower costs by 50 percent, the agency said. With the contract award, GSA became the first federal entity to move its email system to a cloud-based platform on an agency-wide basis. Almost 17,000 GSA users in the U.S. and abroad will be migrated to the Unisys-Google platform.
Cloud Presents Opportunities
The GSA procurement is part of a government-wide effort to utilize lightweight technologies such as cloud computing and shared services to limit the need for expensive, redundant infrastructure, the agency said.
"GSA's email award is in step with the administration's 'cloud first' strategy and demonstrates that agile, secure, reliable and cost-effective cloud options exist to rapidly improve agency operations," said Dave McClure, GSA associate administrator of the Office of Citizen Services and Innovative Technologies.
For Google, the contract represents a major marketing coup in cracking the federal market.
"GSA is leading the way in embracing the federal Cloud first policy under which agencies should opt for hosted applications when secure, reliable, cost-effective options are available. We are thrilled that GSA has chosen to move to the Cloud with Google and we look forward to expanding our productive partnership with the agency," said Mike Bradshaw, director of Google's federal enterprise team, in a Google blog post.
Microsoft, understandably, was less than thrilled by the GSA's selection of Unisys-Google, but a top executive tried to convey a sporting tone.
"Industry competition drives innovation and is good for government agencies," said Curt Kolcun, Microsoft's vice president of U.S. public sector business. "We are disappointed in the GSA's internal email decision."
It appeared Microsoft was puzzled as to why GSA selected Google, in light of what Microsoft felt were the attractive features of its own offering.
"Our business productivity online suite (BPOS) federal proposal was a conscious decision to provide GSA with U.S.-only data center support, where data is maintained in the U.S. and is administered by U.S. citizens with background checks," Kolcun told the E-Commerce Times.
"This offering meets the most stringent requirements of governments, and we are working with several agencies who see this as essential. We are gratified that so many federal, state and local governments have chosen Microsoft to meet their business needs," Kolcun said.
Microsoft Sees Google Flaws
Another Microsoft executive was more pointed in his comments, expressing consternation over GSA's procurement rationale.
"We will continue to serve GSA's productivity needs through the familiar experience of Microsoft Office and we look forward to understanding more about GSA's selection criteria, especially around security and architecture," said Thomas Rizzo, senior director of Microsoft Online, in a corporate blog posting.
"There's no doubt that businesses are talking to Google, and hearing their pitch, but despite all the talk, Google can't avoid the fact that often times they cannot meet basic requirements. For instance, in California, the state determined that Google couldn't meet many of its requirements for functionality and security. Rather than address deficiencies in their product by developing a more robust set of productivity tools, Google cried foul instead of addressing these basic needs," Rizzo said.
"Constraints such as inadequate product support, failure to provide a roadmap, poor interoperability with other line of business applications and limited functionality are all reasons why public sector organizations such the state of Minnesota and New York City have said 'no thanks' to what Google is offering," he added.
As matter of policy, GSA was circumspect in explaining its decision.
"The government cannot disclose details of competitive proposals or the pre-decisional information used in the Best Value determination," GSA spokesperson Steve Hoffman told the E-Commerce Times.
"However, Unisys provided the Best Value solution for the GSA objectives as stated in the request for quotation," he added.
Those objectives: 1) modernization of the email system; 2) provision of an effective collaborative working environment; 3) reduction of the government's in-house system maintenance burden by providing related business, technical and management functions; and 4) application of appropriate security and privacy safeguards.
Google's Partnership Strategy
GSA awarded the contract to Unisys under its Alliant government-wide acquisition contract. The Alliant program was designed to facilitate IT procurement with the creation of a roster of qualified vendors who are basically approved to later compete for federal contracts. The mechanism saves individual federal agencies from setting up their own qualification procedures.
GSA approved 59 vendors for email services, including heavyweights such as Microsoft, Unisys, Verizon and AT&T. However, Google was not among them, and as a result had to partner with an Alliant contractor to qualify for the work.
"Google's federal enterprise often works with partners, including Unisys, to deliver our technology," David Mihalchik, business development executive at Google, told the E-Commerce Times.
"Google has been working its way into the federal space for a while, and this partnership is actually the primary means for many companies to compete these days," explained Deniece Peterson, industry analyst with INPUT.
"Because the trend is now to consolidate smaller contracts into bigger contracts with broader scope, as well as for agencies to create their own vehicles, companies that don't win a spot on the original contract sometimes only have access to a particular agency by partnering with a company on the vehicle," she told the E-Commerce Times.
"Since Google doesn't yet have the federal presence of Unisys, it makes sense for them to partner with a recognized Alliant entity in order to gain entry. This partnership seems to be the most viable way for Google to make inroads into the federal space right now," added Peterson.
"This is a real beachhead for Google, but I couldn't say why they prevailed over Microsoft," commented Shawn McCarthy, director of research at IDC Government Insights.
"Every contract is different. It could have been a price thing but I'm not privy to that either," he told the E-Commerce Times.
"Microsoft offers some pretty robust programs and maybe there was a trade-off in price in opting for something less robust for a lower cost. However, Google has been working to make its cloud offerings pretty robust too," McCarthy observed.
"I would advise GSA to be cautious on this installation and look at Google's email contract with the city of Los Angeles because of some of the early implementation issues that came up there," McCarthy added.
Google's Los Angeles project has both positive and negative aspects, McCarthy noted in a blog post. The benefit is a potential $13 million in savings over five years. The negative includes some initial problems with security and archiving functions.
There will definitely be an impact on cloud computing as a result of the contract, owing to GSA's high visibility.
"I wouldn't say this shows a federal commitment to the cloud, but it shows a commitment to explore the cloud," McCarthy said. "You need a few powerful case studies for demonstration — but if this works at GSA, it will show it can work elsewhere."
The GSA contract was announced December 1, just about a month after Google took the U.S. Interior Department to court for its failure to fully consider its technology when the department awarded an email services contract to Microsoft.