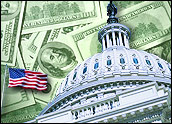 It seems so easy and so simple. Federal agencies should put most of their efforts into their missions and use management tools which enable them to meet mission goals. One such tool is cloud technology — an "on demand" option for information technology services.
In concept, the simplicity of using on-demand IT pretty much the way water comes from a tap is appealing. At its most basic element, cloud technology offers computer and IT support along the on-demand model, which means IT service users pay only for what they use. They do not have to overpay for capacity they may never use.
Federal agencies, however, have customarily over-bought IT capacity and have been directed to consider cloud technology as the first option for any IT solution.
For IT vendors, the idea seems pretty simple too. Advertise an on-demand cloud service to federal agencies and start taking orders, much like the suppliers of electricity.
Alas, nothing in IT is ever quite that simple, and the federal government's migration to cloud technologies is proving to be a gradual, long-term process rather than a short, radical change.
Agencies Move at Deliberate Pace
The latest chapter in that long-term process is a directive issued by the Office of Management Budget (OMB) in early August, designed to spur cloud adoption. The directive requires federal agencies to report any spending directly attributable to cloud computing implementation, operations or services as part of agency budget preparations.
The latest OMB requirement is "a big step toward making cloud computing a reality for the federal government," said Michael Hettinger, director of the Software & Information Industry Association's Public Sector Innovation Group. "The directive ensures that agencies are able to plan investments in cloud technologies that can reduce costs and more effectively serve citizens," he said.
The directive requires agencies to report cloud investments for the prior year, current year, and budget year both by deployment model (public, private, community, hybrid) and service model (PaaS, SaaS and IaaS). In addition, agencies must issue a report which specifies whether a cloud alternative was evaluated for various IT investments per the federal "cloud first" policy. The evaluation must indicate the following for each budget year:
The agency chose a cloud alternative for some or all of the investment.
The agency did not choose a cloud alternative for any of the investment.
The agency did not evaluate a cloud alternative but plans to evaluate a cloud alternative by the end of the budget year.
The agency did not evaluate a cloud alternative and does not plan to evaluate a cloud alternative by the end of the budget year.
"I don't think OMB is necessarily disappointed with the pace of cloud migration which is falling into a gradual process. Rather it is still trying to nurture cloud adoption within the agencies. The directive is the first time we've seen an acknowledgement that the agencies need to account for their cloud investment actions," Hettinger told the E-Commerce Times.
Vendor's Gain Market Data
The OMB requirement should yield market intelligence that will benefit cloud providers. "The information will be helpful in that vendors will get a better sense of what agencies intend to invest in the cloud and generally the types of investments," Hettinger said. "You may not get specific dollar amounts, but you can tell what portion of the budgets will be oriented to cloud activities."
A recent survey of government IT specialists confirmed that cloud migration in the government sector continues to be a gradual process, with federal cloud adoption moving at a somewhat faster pace than state and local government migration. An IDC Government Insights survey of 400 government IT workers at all levels was conducted in April, and results were released in early August.
"The broad takeaway from this data is that government employees realize that cloud is becoming important, but many are still deciding what 'cloud' will mean to them," IDC reported.
About 30 percent of the 400 respondents were federal Defense Department IT workers, while another 20 percent were employed by federal civilian agencies. The rest were state and local government workers.
The IDC survey touched on several factors in cloud adoption that mirror the concerns of OMB in creating increased awareness of budget and investment strategies. IDC reported, for example, that nearly 35 percent of all respondents did not know what percentage of their organization's IT budget is dedicated to cloud solutions. This can cause hesitancy to invest and be an impediment to cloud migration.
"The survey indicated that significant progress already has been made for cloud services, but overall progress will only accelerate once several important issues have been addressed," said Shawn McCarthy , research director, IDC Government Insights. "These issues include lack of knowledge by some participants on the level of funding available to them to spend on cloud solutions as well as the needed enterprise architecture changes that can help agencies move more aggressively into cloud," he said.
Another important factor in cloud deployment is the utilization of enterprise architecture. IDC found that federal survey participants were more likely to have an enterprise architecture in place, while state and local participants were slightly less likely to have adequate EA capability and slightly more likely to lack knowledge about broader EA efforts within their agency.
Stealth Cloud Migrations
"The real hype cycle for cloud adoption in the federal government occurred between 2009 and 2010. Since then it has settled down on the publicity side, but operationally, things are happening," Alex Rossino, principal research analyst at Deltek, told the E-Commerce Times. "At one level it may seem that cloud adoption is moving gradually, and in terms of big conversions and migrations, that may be true. But we did a tally earlier this year and we came up with more than 200 federal cloud-related projects that cropped up in a short time," he said.
"It may be that at the big project, CIO level the migration is moving gradually. But behind the scenes at the operational level it appears there is more going on," he said.
Cloud providers will need to take into account the various levels within the federal government that are exploring cloud options.
"Vendors can be ready to offer case studies, white papers and other documentation to support the idea of cost savings through the cloud," IDC's McCarthy told the E-Commerce Times.
Federal agencies have been given tight deadlines to meet the OMB spending disclosure requirements in their Form 300 and Form 53 documents which are used for IT data. A draft of the required cloud information is due by the end of August; preliminary budget data including cloud information is due by Sept. 10, and the final budget request is due in early January.