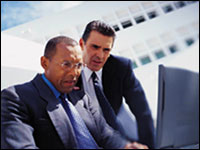 Migration to cloud technologies is a challenging task for federal agencies — even though they have increasingly high hopes for greater adoption of cloud platforms. Information technology managers at federal agencies are seeking to double the utilization of cloud technology for IT infrastructure, software and applications, and platform or middleware purposes, according to a recent survey released by MeriTalk.
The process of adoption itself will remain a formidable task, the survey results suggest. A central issue for federal agencies is a concern for security, expressed in a variety of contexts involving data protection and operational issues within the cloud vendor community.
Only 44 percent of the 153 federal IT managers polled felt either "very comfortable" or "somewhat comfortable" about turning agency IT services and applications over to cloud providers, MeriTalk found. About 32 percent of respondents felt either "uncomfortable" or "somewhat uncomfortable" about cloud migration, while 24 percent registered a neutral position.
Cloud Adoption Poses Problems
A key factor in the decision to embrace cloud adoption is whether agencies have developed robust IT governance programs, MeriTalk reported. More than half of respondents (56 percent) said that their agencies were developing data stewardship and governance programs for cloud services and vendors.
Among the major elements supporting such programs: quality documented metadata programs; well-understood data integration processes; defined or identified data owners; and known systems of record.
Agencies that have done a good job in governance programs are much more disposed to implementing cloud programs than those lacking sufficient data management controls, the survey found.
Most agencies face roadblocks associated with managing cloud services and vendors, MeriTalk reported. Among the challenges: remediation for data exceptions; data integration; and collaboration/interoperability. Full confidence in vendor security is still lacking, with only 68 percent of respondents rating vendor security as "completely" or even "somewhat" sufficient.
The good news for cloud providers is that agencies generally are convinced that cloud adoption will make data management easier and more efficient, based on the survey's findings. However, overcoming some of the remaining challenges will not come easily or quickly.
It's doubtful the agencies have the ability to overcome these challenges in a relatively short time, said Kirk Kern, chief technology officer for NetApp, U.S. Public Sector.
"The cloud is causing agencies to take an introspective look at the ownership, data stewardship and risk profiles of data repositories, especially as they evaluate the consumption of cloud services," he told the E-Commerce Times.
Data governance programs must be formalized to identify and implement security models, and other protection measures will be necessary as well, Kern noted.
"Because this involves both organizational and technical challenges, the window for implementation is longer than 12-18 months, and will be realized through stepwise and iterative processes," he said.
"The benefits cloud offers are immense, but with the introduction of new hybrid cloud architectures, data stewardship becomes even more complex, as data must be managed and accessed across any cloud," Kern explained. "Federal agencies must establish enterprise-wide governance practices, while deploying solutions that streamline data mobility and stewardship across cloud models. Cloud consumers must develop data management processes and role-based control mechanisms to ensure success."
A September 2014 General Accountability Office report reinforced the findings of the MeriTalk survey. As part of its task of monitoring federal IT activities, GAO studied the performance of seven major civilian agencies, including some cabinet level departments, in adopting cloud technology.
GAO Cites Migration Hurdles
The agencies made progress in the last two years by boosting the number of cloud projects from just 21 in 2012 to 101 in 2014, and by increasing investment in cloud technology from US$307 million to $529 million, GAO reported. While these rates of increase appear impressive, investment in cloud technology remained modest — measuring less than 2 percent of IT operating budgets for the seven agencies combined.
One reason for the low percentage of investment, GAO found, was that agencies generally have avoided migrating to the cloud for their legacy IT operations, which make up 67 percent of IT spending — and instead have introduced the cloud only for modernization or replacement projects.
While the benefits of the cloud are attractive, the process for adoption is neither quick nor simple, agencies reported to GAO.
"Agencies continue to face formidable challenges as they move their IT services to the cloud. Two of the challenges — namely ensuring IT security and overcoming agency culture — have persisted since we last reported in 2012," said David Powner, director of IT management issues at GAO.
In addition to facing impediments such as obtaining vendor certification and addressing interoperability issues, agencies encountered a second wave of challenges, GAO found. They included insufficient network infrastructure (topology and bandwidth); lack of staff expertise to manage cloud migration after vendor contracts were awarded; and scarce budget funds to finance initial up front cloud investments.
Early successes in federal adoption of cloud technology may have been the result of selecting relatively simple and easy adoptions — the low-hanging fruit of IT operations. However, with broader and deeper cloud installations on the horizon, the implementation process will remain formidable.
Although "the cloud" has become a generic term for the concept of on-demand computing capability, there are few applications of cloud technology that lend themselves to some universally applicable purpose. As a result, federal agencies need to devote a significant amount of effort to adapting the cloud for specific mission requirements.
"Cloud solutions still need to align with the agencies' requirements — and other than email services, there is not a one-size-fits-all approach," the GAO's Powner told the E-Commerce Times.
Cloud Spending Forecast Is Bright
Even as challenges continue to surface, federal agencies and IT managers are marshaling resources to push forward with cloud adoption. Annual federal spending on cloud migrations will move from about $3 billion in fiscal 2014 to $9.9 billion in fiscal 2018, IDC Government Insights reported last month.
One reason growth in cloud adoption will continue at a stronger pace is that agencies increasingly are persuaded that cost savings facilitated by the technology are too attractive to ignore, said Shawn McCarthy, a research director at IDC.
"Even more important will be the growth of the number of vendors who will have gained FedRAMP approval, and the way systems integrators are increasingly working with Amazon," he told the E-Commerce Times.
The Federal Risk and Authorization Management Program (FedRAMP) — is a cloud security mechanism designed for government-wide utilization. It is operated by the General Services Administration.
Over the last year or so, GSA essentially has precertified a roster of cloud and related service providers for meeting federal security standards — a move that should encourage cloud adoption. While major IT companies such as Salesforce, IBM and AT&T are participating in FedRAMP, Amazon's presence in the program as the currently dominant cloud provider also could spur federal cloud development.
"Clearly, cloud growth is ramping up in the U.S. federal government," said IDC's McCarthy. "Spending went higher than originally predicted this fiscal year, and we expect that the growth will continue into fiscal year 2015, even though the Office of Budget Management has indicated that it will cut back slightly on cloud spending."