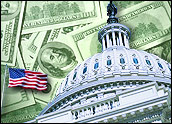 From partial unpaid furloughs of personnel to travel cutbacks, U.S. government agencies are scrounging to come up with ways to save money. In that light, the Obama Administration's proposed 2014 federal budget for information technology resources is good news for agency IT shops — and for vendors serving the market.
The administration has proposed spending US$82 billion for information technology in fiscal 2014, a gain of 1.7 percent over estimated spending for 2013, which ends on September 30. While the rate of increase is small, the fact that there is an increase at all suggests that IT is viewed as a positive investment.
"With information technology at the core of nearly everything the federal government does, we must use IT as a strategic asset and drive cost savings to pay for new and emerging technologies that can fundamentally improve the way government does business and delivers services to the American people," said federal chief information officer Steven VanRoekel in a 2014 budget message.
The administration's proposal provides $42.4 billion for IT activities among civilian agencies. Most of the agencies show either small increases or small cutbacks from the anticipated spending in 2013. The Defense Department, in a class by itself, will spend $38.6 billion in IT in 2014, a gain of $789 million vs. 2013.
Big Gains at Few Agencies
Among agencies with significant gains is the Department of Homeland Security, with a boost of $398 million to just over $6 billion for 2014. The Department of Veterans Affairs will show a huge gain of $623 million to nearly $3.9 billion in 2014.
Agencies with noticeable cuts are the Department of Health and Human Services at $7.2 billion in 2014, a drop of about $128 million vs. 2013, and the Social Security Administration with a 2014 budget of $1.5 billion, about $100 million less than 2013.
Funding for IT at the General Services Administration will fall from $549 million in 2013 to $486 million in 2014, reflecting savings from consolidation and reduction of duplication "to manage IT more efficiently and with greater responsibility and accountability," the agency said.
"From a total IT spending standpoint, it can be difficult to determine what constitutes strategic investments vs. status quo spending. But there are indications that the administration is making such strategic investments to both improve citizen services and to control long-term IT costs," Shawn McCarthy, research director at IDC Government Insights, told the E-Commerce Times.
"Rather than purely stating that agencies are moving away from legacy systems, it would be fair to say that they are moving to the cloud when there is a viable return on investment that can be calculated from such moves," he said. "In many though not all cases, cloud providers can take advantage of a large economy of scale to help offer services at highly competitive prices."
O&M Spending Remains High
One goal of the administration has been to reduce spending on operations and maintenance and to redeploy the savings into projects to improve service to citizens in a more agile and efficient way. Nearly 69 percent of federal IT spending in 2011 was for O&M activities.
At an April 19 budget forum sponsored by the Armed Forces Communications and Electronics Association (AFCEA), several agency IT directors conceded that reducing O&M costs remained a challenge.
"We are still hovering around the 70 percent level for O&M," Robert Foster, deputy CIO at HHS said at the forum in response to a question from the E-Commerce Times. The past federal government practice of heavy investments in what are now "legacy systems" has made it difficult for agencies to unwind into more nimble and flexible IT configurations.
The department's approach to reducing operation and maintenance costs was to move from a high capital expense ownership mode — "cap-ex" — and more into an operations expense situation via the cloud and shared sourcing to take advantage of innovative IT approaches, DHS Deputy CIO Margie Graves said at the AFCEA forum.
However, the movement of federal agencies to innovative IT, even at a relatively gradual pace, provides contractors with opportunities and agencies with more responsive operations, according to Daniel Castro, a senior IT analyst with the Information Technology and Innovation Foundation. "The 2014 budget shows a clear commitment to using IT to make government more effective and efficient," Castro told the E-Commerce Times.
"Computing continues to get cheaper, and by investing in new systems and moving to cloud computing, the government can capture many of those cost savings," he said. "In addition, there is a clear focus on cybersecurity here, and it is generally easier, and cheaper, to protect modern systems rather than legacy systems."
Cybersecurity Gets More Funding
In addition to promoting innovative IT, the 2014 budget includes a boost in cybersecurity spending. Among the proposed key investments are:
Network Security: More than $300 million for new funding for DHS to support continuous monitoring of federal networks and better prevention of computer intrusions.
Infrastructure: About $5 million in new funding is provided to DHS to assist critical infrastructure owners and help operators secure their command and control systems.
Incident Response: A total of $79 million in new funding has been allocated for DHS, DoD, and the Department of Justice to help agencies and the private sector "connect the dots" in identifying and responding to cyberincidents.
Cyberenvironment: The Department of Commerce will allocate $85 million to support the "trusted identities in cyberspace" program and to accelerate research and standards work on current and future information technologies.
Other 2014 budget highlights:
VA Customer Management: Veterans should benefit from VA efforts to significantly improve services in areas similar to private sector customer relations management.
A major portion of the department's additional spending includes a boost of $359 million over 2013 "for a reliable and accessible IT infrastructure, a high-performing workforce, and modernized information systems for veteran services and benefits," according to budget documents.
Related IT programs include: $155 million for the Veterans Benefits Management System; $168.5 million for the Veterans Relationship Management initiative, and $344 million for the integrated Electronic Healthcare Record (iEHR), a joint effort with the DoD to share health information.
Boost for IT Research: Thirteen agencies will direct a portion of their IT budgets to a multiagency cooperative effort managed through the Networking and Information Technology Research and Development (NITRD) program.
The program involves research in cybersecurity, high-end computing systems, advanced networking, software development, high-confidence systems and information management.
The 2014 NITRD budget of $4 billion reflects an increase of $200 million over the 2013 level, and includes a focus on Internet reliability and security, as well as Big Data initiatives.
Mobile IT: The federal government currently spends approximately $1.2 billion annually for mobile and wireless services and devices, maintaining an inventory of approximately 1.5 million active accounts.
"These figures will only increase as agencies accelerate their adoption of new mobile technologies, and as the public increasingly expects government services to be made available anywhere, anytime, on any device," said the Office of Management and Budget in its 2014 proposal.
IT spending should not be viewed in a vacuum, but as a means to meet agency missions, VanRoekel said. "The federal government must innovate to deliver new capabilities to the essential work that is done across the country."