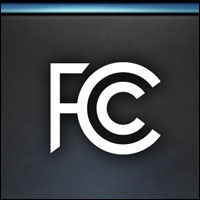 The Federal Communications Commission on Monday announced a plan to create label disclosures that would give consumers a clear picture of the pricing, speed and bandwidth they are paying for under high-speed Internet contracts.
The FCC's Consumer Advisory Committee proposed the nutrition-like labels amid concerns that providers were not transparent enough about the speeds, bandwidth and pricing consumers were signing up for under fixed and mobile broadband contracts.
"The more consumers know, the better the opportunity for competition," FCC Chairman Tom Wheeler said. "And that we can achieve that kind of transparency without intrusive regulation is also an important step forward and an important signal."
The FCC relied heavily on the federalConsumer Financial Protection Bureau for the food label format, as that agency was heavily involved in promoting the use of clear language for various financial instruments used by consumers, including mortgages, student loans and prepaid debit cards, Wheeler said.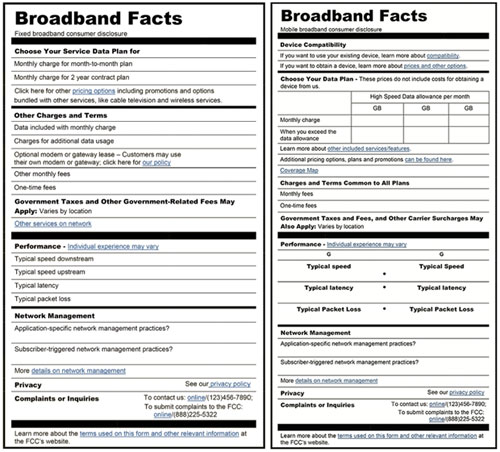 – click on image to enlarge –
The FCC receives more than 2,000 complaints a year about surprise fees associated with Internet service. The bills, which average between US$60 and $70 a month, can be up to 40 percent higher than advertised after taxes and fees, the FCC said, citing consumer complaints.
Food Labels
The labels, which will look like supermarket nutrition labels, will disclose key details about a particular broadband agreement, including price, data allowances, speeds and management practices.
A sample label provided by the FCC included, for example, monthly data and overage charges, one-time deposits, activation fees and installation charges, typical upstream and downstream speeds, early termination fees and privacy policies.
The nutrition label format, while not required by the FCC plan, will provide a safe harbor for broadband providers that use it under the Open Internet transparency rules, the commission said.
Consumers across the country fought hard to get broadband providers to take steps to create more transparency, said Kate Forscey, associate counsel for government affairs atPublic Knowledge.
"It's been pretty clear for a while now that consumers are frustrated with the confusing jargon they face when choosing their broadband providers," she told the E-Commerce Times.
The plan would provide clear information about what consumers are paying for, according to New America'sOpen Technology Institute, which sat on the Consumer Advisory Committee task force.
"Consumers now have an alternative to the jumble of formats, vague descriptive terms and otherwise piecemeal disclosures that have been characteristic of the broadband marketplace," said Sarah Morris, senior counsel at the OTI.
Competition Lags
The labels fall short what essentially is the problem of real broadband competition, technology analystCraig Settles warned.
"When you have effectively a duopoly or monopoly, having standards or broadband labels isn't going to mean a lot in a noncompetitive environment," he told the E-Commerce Times.
The other problem with broadband is there isn't a very good way of measuring apples to apples for things such as speed, reliability and pricing, Settles added.
For example, when two major providers offer speeds that say up to 5 Mbps, in reality, one may provide only 1 Mbps and the other may reach 4 Mbps, he said. "How do you measure the reliability of each?"